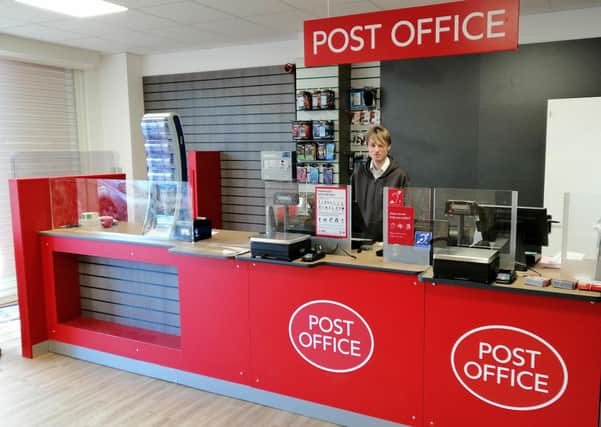 Mayor of Sleaford Coun Tony Brand will cut the ribbon and Town Crier John Griffiths will proclaim the opening of the new premises on Monday at Unit 4, Riverside Precinct, off Southgate.
The new Post Office is due to open at lunchtime having temporarily opened inside the previous Pop-in Bargain Shop premises at 18 Riverside Precinct last September during the pandemic.
This earned Postmaster Lee Taylor the title of Sleafordian of the Year 2020 for working tirelessly to restore a full-time Post Office to the town after the previous premises closed in February 2020 when the lease expired.
At the same time Lee, aged 25, who grew up in Sleaford, is also studying as a Management Advanced Apprentice. Next month he will have completed Level 3, but he already plans to move on to Level 4 to further develop his management skills.
Lee's parents opened Pop-in Bargain Shop in 2014 and he is now in charge of the day-to-day management of the shop.
He introduced a large new range of stationery to complement the addition of Sleaford Post Office.
The new premises, which were empty after the closure of the Sweet Vienna bakery, underwent a full refurbishment to incorporate the new businesses.
There are two Post Office serving positions, alongside the retail counter.
The new opening hours are Monday to Saturday, 9am – 5.30pm; Sunday: 10am – 4pm.
This offers 55 hours of Post Office service a week. This is nine extra hours of Post Office service than previously due to later opening and Sunday trading.
Lee said: "People are very happy that we opened a full-time Post Office again last year. They have become regular customers and they were very excited about the move to the new premises. It is going really well.
"We have attracted customers who were not aware of our shop. They like that they buy their stationery and they can also buy our other goods at the same time."
Ian Johnson, Post Office Network Provision Lead, said: "We are confident that this vibrant new-style Post Office at the heart of the local community will meet customer needs. We are pleased to have a permanent solution for the town in recently refurbished premises and with the added advantage of daily opening."