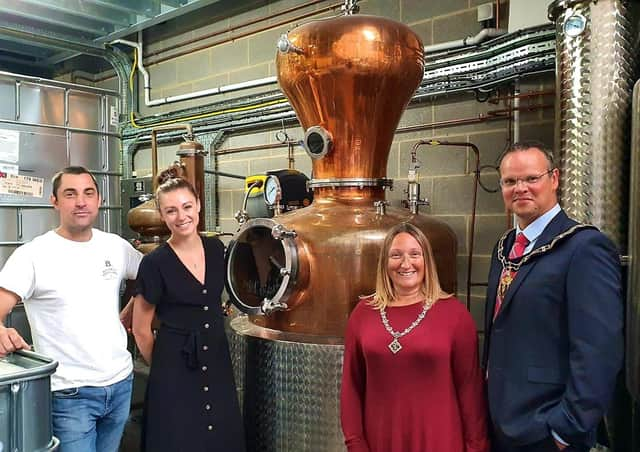 Bottomley Distillers has been working alongside M&G Designs, in Eastgate, to provide the free service to the small independent businesses in the town.
Bottles of the 500ml sanitiser will be available for collection from M&G Designs, which is owned by Gary Denniss - the chairman of Louth Independent Traders.
If your business would like to take advantage of the service, simply ring ahead to speak to Gary on 01507 604923 and let him know how many bottles you would like.
Gary Denniss told the Leader that he has also been working with the district council, which has provided a dozen standalone hand sanitising stations around the town centre, which will be filled with Bottomley's donated sanitiser.
Mr Denniss described Bottomley's donation as a 'fantastic idea' which will 'keep us going', and thanked the business on behalf of the Louth Independent Traders.
Next week will also see the Cornmarket open up to outdoor hospitality, as reported previously, and these businesses and customers will benefit from the offer.
Place Manager for East Lindsey District Council, Lisa Collins, added: "Throughout the lock downs and now the reopening, it has been great to see how businesses have worked together to ensure the safety of customers and their staff.
"Hand sanitisers play an important part in helping to prevent COVID spreading, and it is for this reason the Council are utilising some of the 'Reopening the High Street Safely' funding to invest in hand sanitiser stations also."
During the first national lockdown last year, Bottomley commercially produced nearly 15,000 litres of hand sanitiser to support NHS services and essential workers.
The business also partnered with St Barnabas Hospice to raise vital funds for the organisation with the creation and sale of their 'Est. 1982 label gin.
Since merging with Next Frontier Brands in September, they have continued their dedication to positively impacting the local visitor economy and the community.