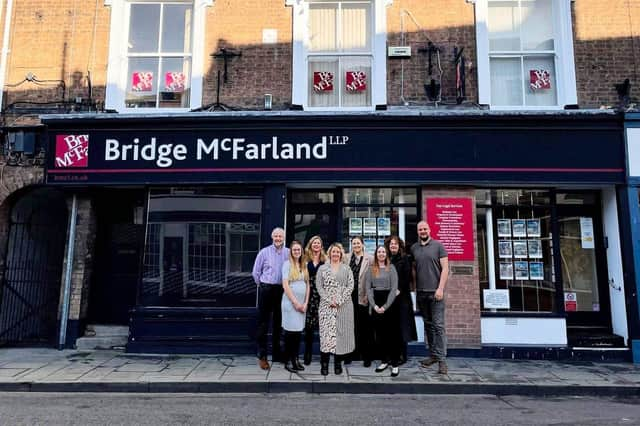 Bridge McFarland are very proud of their Louth heritage – with roots going back to when Haddon Owen & Son was established in 1851 at 1 Eastgate.
Now situated in the Cornmarket and employing over 20 members of staff, Bridge McFarland's Louth branch is very much at the heart of the Louth community and at a time when many law firms and banks are consolidating branch offices into larger town or city offices, they are committed to putting clients first and serving the needs of people in the area.
"We pride ourselves on being more than just a law firm, striving to be a trusted partner and advocate for the people and businesses of Louth," said Stephen Oldridge, Managing Partner
Solicitor Mia Harper leads the residential conveyancing team in Louth. Mia deals with all manner of residential property related matters including sales and purchases (including freehold, leasehold, new build and shared ownership), transfers of equity and remortgages.
Mia is supported by a fantastic team who help to ensure that clients are provided with an efficient and good value service.
"We are incredibly client focused and aim to ensure that each transaction is as streamlined and stress-free as possible," said Mia. "With the office located in the heart of Louth, we make sure we are both accessible and responsive to our clients.
"We understand that the house moving process can be new to many clients and we pride ourselves on being an approachable, friendly team. There's no such thing as a silly question. Particularly when you bear in mind that a house purchase is usually the biggest financial commitment any of us make."
Jacqui Johnson is a partner and head of the firm's private client department, dealing mainly with complex wills, disputed wills and probates, inheritance tax planning and Court of Protection matters (including statutory wills and gift applications).
Jacqui is a member of the Society of Trust and Estate Practitioners, the Association of Contentious Trust and Probate Specialists and the Law Society Private Client section. She is also a past chair and active member of the Chamber of Commerce Board Council. She is also a long-standing member of Work Wise Women in North East Lincolnshire.
Jacqui is very well supported by Kayleigh Templeton, Jasmine Boocock and Laura Wray who manage their own caseloads of wills, trusts and administration of estates and lasting Powers of Attorney whilst also assisting Jacqui.
Commercial property and development
Our Commercial Property and Development team is led by partners Dale Crombleholme and Joe Pepper.
Dale is a highly experienced commercial property lawyer with over 25 years under his belt. In that time he has dealt with all manner of commercial property matters.
Dale graduated with an LLB from The University College of Wales, Aberystwyth in 1989. Following this he worked for a number of years in a variety of service sector jobs before joining Bridge McFarland in 1998, as an assistant to the then senior Partner, and original founder of the firm, Paddy McFarland. Dale qualified as a solicitor in 2001 and became a partner of the firm in 2006.
Joe supports people with all aspects of property law with a particular specialism in property development projects, property funding and finance, commercial property and commercial landlord and tenant arrangements.
He acts for a breadth of clients from established large developers to property start-ups and single property developers.
Joe grew up in the local area where the family worked in the building trades including joinery and roofing and studied at King Edward VI Grammar school. He worked in a diverse range of jobs before settling in the Louth area.
He loves helping people through the legal aspects of their projects and helping them to make the challenging decisions with straightforward advice.
Growing up in a family in the building trade, has given Joe a great ability to translate the practical outcome needed into a legal process. He enjoys seeing projects develop from an idea to a reality and being a reliable and trusted part of that process.
Joe said: "It's a challenging job at times as it's busy and comes with a weight of responsibility but I'm a simple guy so you'll find me unwinding with a long list of DIY projects, in a pen full of chickens or ducks or wandering through to countryside enjoying the great area we live in."
Partner Jacqueline Pennock heads up the family law team in Louth. Jacqueline has extensive experience, having been with the firm for over 32 years.
She started her career at the firm's Grimsby office, helping to establish a strong family law team there before going on to do the same at the Lincoln and Louth offices.
Jacqueline is ably supported by associate solicitor Luke Brown. Luke joined the firm in 2016 and trained with Jacqueline as part of his training contract before qualifying as a solicitor in September 2020.
Both Jacqueline and Luke are confident that they can understand their clients' needs and can support them in achieving satisfactory resolutions in what they fully understand can be very difficult times for their clients. They pride themselves on their listening skills, being proactive and focusing on fairness and achievable outcomes.
They provide experience and knowledge in all areas of family law, including divorce, civil partnerships, financial issues arising from divorce and separation, child arrangements, pre-nuptial and post-nuptial agreements, cohabitation agreements, injunctions, and representation at court.
To find out more visit the website.