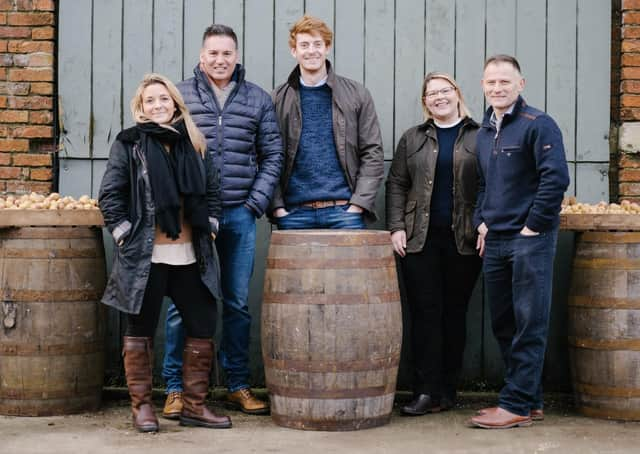 The recently-established Elsham Wold Distillery in North Lincolnshire includes two sibling founders, Emma Hamilton, 33, and Matthew Hamilton, 28, who both grew up in Louth and attended the local grammar school.
Emma said: "We're hugely proud of our Lincolnshire heritage. I even left behind a career in London hospitality last year to start this exciting venture in my home county!
"The opportunity to work alongside family, and extend my career in the drinks world, in my home county, was too good to pass up.
"Our family business within the potato industry led us to meet the other founders of the team, with serious conversations taking place back in 2018, and the rest, as they say, is history.
The distillery team has now released its first spirit, a premium single-variety vodka called 'Edwards 1902', made from Lincolnshire's finest King Edward potatoes.
King Edward potatoes were first grown by John Butler in the West Lindsey village of Scotter, back in 1902, and the variety is famous for its superior creamy texture.
It has become a source of great pride in its home county, and the families of many of Elsham Wold Distillery's founders have been farming it for decades.
The abundance of local premium ingredients, and the potatoes' rich qualities, gave the founders the confidence to create one of the smoothest potato vodkas on the market today.
Emma's brother, Matthew, is a molecular microbiologist by qualification, with an invested interest in plant science which led to a previous career in horticultural pathology.
He said: "We truly believe that locally produced spirits from natural raw ingredients can transcend the popular craft market and conquer the premium spirits industry.
"We set out to prove that quality produce, originating from local farms across Lincolnshire, could create a premium English potato vodka."
Batch-produced at Elsham Wold Distillery, just a few miles from the farms where its main ingredient is cultivated, the base spirit is made from 100 per cent raw ingredients. The small but highly skilled team take great pride in their craft and control the whole process themselves.
The team says that, since the new vodka was launched just two months ago, the spirit has converted even the most avid of whisky collectors and gin enthusiasts.
• The 'Edwards 1902' vodka is now available in a 70cl classic bottle on www.edwards1902.co.uk and from a small range of local stockists. Visit the website above for further information.