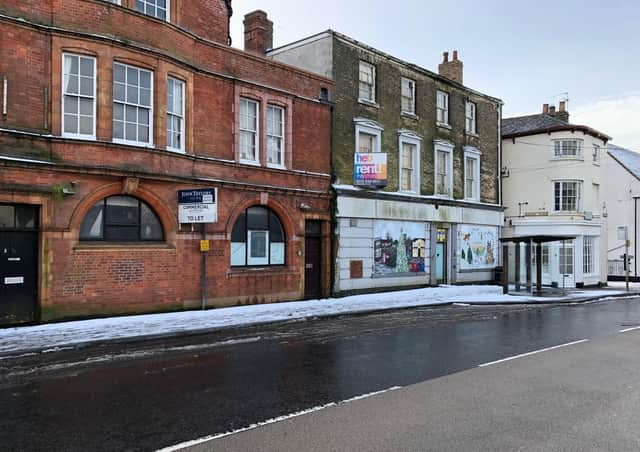 Market Rsen's two empty banks will be joined by a third next month
That is the view of one Rasen Mail reader who contacted the paper to voice his concerns - and to look to the town's future.
Geoff Hill's family have been associated with the Market Rasen area for more than 150 years, bringing their milling business to the town in 1855.
In his letter, Mr Hill writes: "Clearly our town and community are suffering the effects of the pandemic; we are however delighted that the community is pulling together and providing help in many ways, well done to all concerned.
"The appearance of the town is however not receiving the same enthusiastic interest in enhancing some important areas. The Market Place is a prime example as the centre of the town.
"We have two former banks facing dereliction (regrettably Lloyds Bank is closing very soon adding to those) and also many others prevalent in the high street.
"Commercial vehicles are also abandoned right on the road side in the Market Place despite the 'No Parking' signs clearly displayed by the town council - one has been impudently parked there since the end of November, taking up two car parking spaces .
"There are commercial reasons why shops and banks are closed, we must therefore encourage new trade to the town or accept that this is not likely to happen in the near or distant future.
"Efforts must therefore be made by councils and planners to support and encourage property owners to enhance or redevelop unused shops for other uses - possibly residential ?
"We desperately need the local economy to pick up and become successful.
"But, in the meantime, we need to start facing the challenges ahead.
"If we don't start acting soon, the high street will fall down around us !"
Market Rasen's deputy mayor, and chairman of the town's community partnership group, Stephen Bunney has responded to Mr Hill's letter.
He said: "We welcome Mr Hill's comments; the appearance of the town is something high on our agenda, as is the local economy.
"It is important to get investment into the town and we are working very hard on this.
"The recent announcement of the heritage focused project will look at the town's appearance.
"Thanks to West Lindsey District Council, an officer has been appointed to work on this project, which is good news for our town.
"Work is currently underway in the former HSBC building.
"It is also good to see the two empty shops on the market place are now being occupied too."