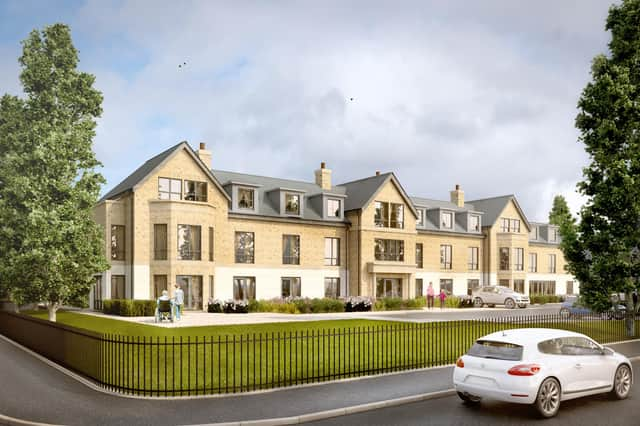 The £8 million pound investment by Brough-based Yorkare Homes is due to be completed ready for opening in May, within the 1,400-home Handley Chase urban extension to Sleaford off London Road.
Marketing Manager Nicola Anderson said Sleaford Manor Care Home is a response to local need and will be the 10th in the family-owned business's portfolio, after work began on the purpose-built facility early last year. Their policy has been to enlist local tradespeople and suppliers wherever possible to reinvest in the community.
Focusing on residential and dementia care, she said it will include such touches as an in-house coffee shop/bar, restaurant standard dining rooms, a full beauty and hair salon, cinema, convenience store and outdoor terraces on each floor.The home will offer large gardens, a bowling green, residents' allotments, social hubs and private seating areas for family, friends and residents to enjoy. Residents' rooms are fully furnished to a high standard with en-suite bathrooms.
The activities team will set up things like gardening, knitting and coffee clubs. A minibus will also take residents to places of interest and shopping trips.
Nicola said: "Our residents say they feel like it is a cruise ship that doesn't move!
"It will generate roughly 70 jobs for the area, everything from carers, maintenance, chefs and cleaners, to activities and front of house staff. We've just started recruiting and have received quite a lot of interest."
Nicola said they plan to open in stages, with the core team in place for the opening weekend towards the end of May, with more roles appointed as numbers increase.
They are also welcoming enquiries for prospective residents. Go to: www.yorkarehomes.co.uk
They already have a home manager installed who is learning the ropes at their nearest existing home, Louth Manor.
Yorkare Homes is among the highest CQC-rated care providers nationally and aim to achieve that at Sleaford when inspectors visit.​​​​​​​​​​​​​​​​​​​​​​​​​​​​​​​​​​​​​​​​​​​​​​​​​​​​​​​​​​​​​​​​​​​​​​​​​​​​​​​​​​​​​​​​​​​​​​​​​​​​​​​​​​​​​​​​​​​​​​​​​​​​​​​​​​​​​​​​​​​​​​​​​​​​​​​​​​​​​​​​​​​​​​​​​​​​​​​​​​​​​​​​​​​​​​​​​​​​​​​​​​​​​​​​​​​​​​​​​​​​​​​​​​​​​​​​​​​​​​​​​​​​​​​​​​​​​​​​​​​​​​​​​​​​​​​​​​​​​​​​​​​​​​​​​​​​​​​​​​​​​​​​​​​​