New solar farm between Sleaford and Lincoln could power 180,000 homes
EDF Renewables and Luminous Energy have announced plans for a new solar farm with battery storage located on farmland between Sleaford and Sleaford.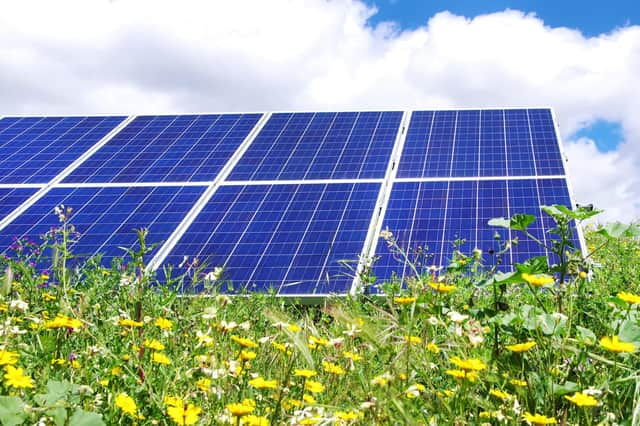 EDF say Springwell Solar Farm would make a 'significant contribution' to the UK's future energy mix by providing enough clean, secure energy to power over 180,000 homes every year – that is the equivalent of around half of all the homes in Lincolnshire, based on 2021 census data.
Consultation on early plans for Springwell Solar Farm will run for six weeks from Tuesday January 24.
Feedback from local communities will help shape the plans for Springwell and identify potential benefits that it could support in the local area.
A mapped out plan on a dedicated website for the project shows the areas they are considering for Springwell, stretching from south of Metheringham, around Blankney and Scopwick and as far as Ashby de la Launde and the A15, although they say they do not expect to use all of this area for generating and storing energy, adding: "We will also be looking at opportunities for boosting biodiversity as well as improving existing features, led by the feedback we receive and the surveys we carry out."
More information will be available during the consultation.
The proposals are on land predominantly owned by Blankney Estates. According to the development website, Springwell Solar Farm will play an important role in safeguarding the estate's future operations and supporting its ethos of long-term sustainability, for the benefit of the environment and future generations.
It would have a fixed lifespan of around 40 years. Once the panels are removed, the land could be returned to agricultural use.
EDF Renewables UK's Head of Solar, Ben Fawcett said: "At EDF Renewables UK, we're passionate about creating a future where clean energy powers our lives. Springwell Solar Farm would produce much needed low-carbon electricity here in the UK, helping to power thousands of homes and businesses every year.
"We are currently at a very early stage on Springwell, with local views vital to helping us develop our plans. We encourage everyone to get involved in the upcoming consultation to find out more about Springwell and let us know their thoughts."
EDF Renewables UK has 38 renewable energy sites in its portfolio including solar, battery, onshore and offshore wind.
Springwell is classified as a Nationally Significant Infrastructure Project (NSIP) because of its generating capacity (over 50MW). NSIPs require planning permission to be granted by the relevant Secretary of State through a Development Consent Order (DCO).
Further information about the DCO process is available at the Planning Inspectorate's website: https://infrastructure.planninginspectorate.gov.uk/
Jolyon Orchard, chief executive of project partners Luminous Energy said: "Our company was established to make a meaningful contribution towards mitigating climate change and we now have numerous renewable energy projects in development, under construction or operating across four continents. When we initiated this project, we recognised it provided a real opportunity to help the UK transition to net-zero.
"We are looking forward to working with EDF Renewables UK and the local community to create a scheme that delivers affordable, clean energy."
Luminous Energy is an established UK-based renewable energy developer with projects in the UK, US, Chile and Australia.
As part of the consultation, members of the public are invited to a series of public exhibitions to meet the team behind Springwell and share feedback. The exhibitions will take place at the following dates and locations:
- Tuesday January 31 – Blankney Old School House (2pm –7pm)
- Wednesday February 1 – Scopwick Village Hall (2pm – 7pm)
- Friday February 3 – Ashby de la Launde Village Hall (11am – 4pm)
- Saturday February 4 – Metheringham Village Hall (11am – 4pm)
A dedicated website: www.springwellsolarfarm.co.uk includes information on Springwell and will host consultation materials from January 24.