Not-so Little Cleaning Company cleans up at England Business Awards
​After growing from two to 37 employees in less than three years, a Louth company which fits in around working mums has cleaned up at the national awards in their sectors.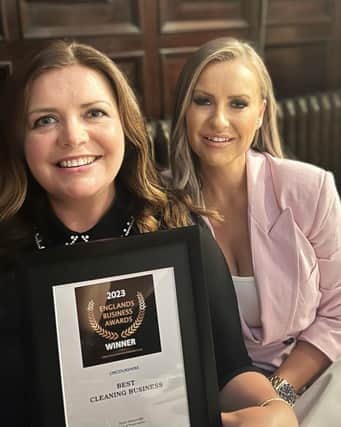 Emma Jacklin set up The Little Cleaning Co. in the middle of the Covid-19 pandemic in January 2021after she made the step from a PR and marketing background to setting up her own cleaning business when she moved to the area from London.
"I started as pushing the ironing side of things more back then as I was convinced that people wouldn't want people in their homes cleaning during the pandemic, but I couldn't have been more wrong!" she said.
She started out with just herself and a part-time cleaner, and now employs 37 cleaners on both full and part-time bases, covering not just Louth but expanded to cover the Grimsby, Cleethorpes, and Lincoln areas too, and boasts many large business contracts, including Butlins.
Emma said that while they pride themselves on excellent customer service, the company mostly employs working mums and setting working hours that fit in around her employees:
"When we take someone on, I ask what hours they can do if they need to the school run and then offer hours to the customers that suit our staff," Emma said.
And now, Emma and The Little Cleaning Co. have cleaned up at the England Business Awards, winning the 'Best Cleaning Business' in the Lincolnshire area.
"We're so thrilled that we won," Emma said, "It goes to show that all the hard we've all put in has paid off and it's phenomenal, we're all absolutely thrilled."