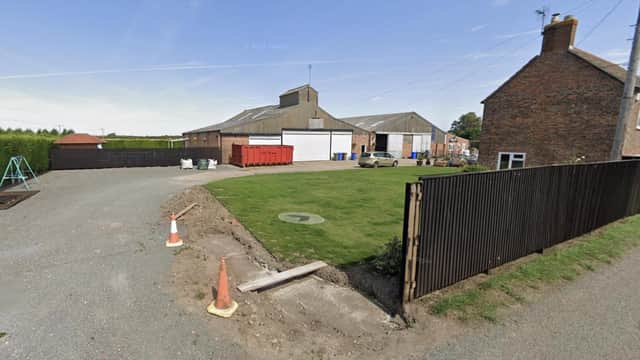 Neil Wright has been holding "adult themed" parties privately at the Frampton premises for a number of years where guests brought their own drinks.
He now wants to sell alcohol but objectors have raised concerns about the noise and traffic impact.
Mr Wright told a local democracy reporter that he had hosted private parties at the venue two or three times a month since 2009.
He said: "We do have adult parties here but we don't provide sex, we just provide a safe place for people to meet.
"I don't need a sex licence as it's just people who come and meet. It was just to sell alcohol.
"They say it's like a swinging club but it's not – it's a nice place for people to meet where there's a pool, Jacuzzi, a bar, and a dance area."
He accused objectors of being against the venue itself, not the licence.
"A lot of what they're saying is hogwash. The police and council have visited here and are happy. The only representations the application has had is from those living nearby," he said.
"Not once have I had police turn up here, or a complaint to the council."
Although one objector claimed the village becomes a "racetrack", Mr Wright said guests were mainly 40 to 50-year-old people.
He said that due to the nature of the road – including a 90-degree bend – "you're lucky if you can do more than 20 miles an hour round it".
The property is surrounded by nearly 50 acres of open field which he felt would mitigate the noise impacts.
Mr Wright claims the alcohol licence would allow him to better control what people are drinking and how much they're drinking.
He added that if the license was turned down, he could still organise private parties where invited guests brought their own alcohol.
Several objections have been submitted to Boston Borough Council ahead of a licence meeting.
One redacted objector claimed: "Allegedly 'The Pool Shed' is a base for 'swingers' parties and, to date, on the occasions when these parties (clearly unlicensed) have been held, the single track road through the village has been akin to a racetrack, starting late in the evening and continuing to and from the site until the small hours of the morning.
"This is totally inappropriate in a quiet village setting such as Frampton.
"In addition to the significant increase in traffic volume, the prospect of loud music (both indoor and out) being added to the mix would be a significant intrusion to and erosion of the quality of life in the village."
The licence will be discussed by the council's Licensing Sub-Committee this Wednesday.