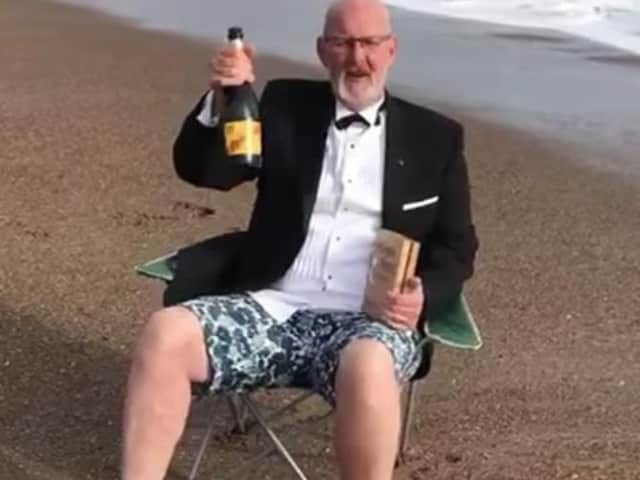 The Hildreds Centre has won the Purple Award - an accolade often only attainable by large shopping centres.
Steve Andrews, manager of the centre, donned board shorts and a tuxedo and took to the beach with a bottle of champagne to announce the good news at a time of uncertainty for the high street.
A delighted Steve said: "We have in actual fact since 2005 won two Purple Apple awards and a Purple Apple merit, which is incredible for a small centre like the Hildreds," he said.
"We also won a silver and a gold CSR award a month ago and we have been shortlisted for a Sceptre award, which we will find out about next week, so potentially we could have won four awards this year.
"I am incredibly proud of my team and the relationship we have with a wide variety of other businesses and organisations who work with us on various projects that benefit the entire community.
"We are a small centre with a big heart and are always looking for ways in which we can improve both the centre and our surroundings to improve the wellbeing of all who visit."
In spite of the uncertainty surrounding Christmas, the Hildreds is promising some festive sparkling for those visiting town to do 'essential' shopping.
"We are looking forward to our Christmas displays going live," said Steve.
"Although we won't have an official switch on event this year, we will have a soft switch on on Saturday, November 28, and we very much hope people will be able to visit while carrying out their essential shopping trips and that the displays will help them enjoy some Christmas spirit this year.
"We don't want people to make a special journey to see them - there is plenty of time because the displays will be working until January 4, 2021.
"We also ask if people are visiting the Hildreds to see the displays to abide by the government rules and keep their distance from others.
"If you press any of the display buttons, you should sanitise your hands before and after, using the sanitiser provided and we kindly ask that people visiting should wear a face covering if able to do so.
"We hope everyone who wants to see the displays will be able to in a safe and controlled manner.
"We look forward to welcoming our customers back soon."