Petition over market plan
A disabled Sleaford resident is calling upon the district council to show him the research proving its plans to pedestrianise the Market Place will boost trade and benefit the town.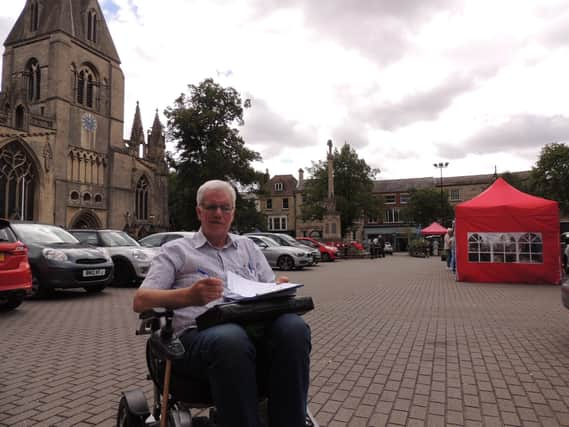 Residents, businesses and other stakeholders had until Sunday to submit their feedback on a planning application to remove the 50 plus parking spaces from the square, replacing part of it with raised planted areas, benches, new lighting and surfacing to make the area more attractive to visit and boost footfall and trade.
The scheme, subject to planning approval by committee this autumn, by North Kesteven District Council, would cost around £1 million, using a UK Shared Prosperity Fund grant to revive the town centre post-Covid.
There would be space for more outdoor cafe seating and the market would relocate temporarily while the nine months of work is carried out next year. But, according to the plans, traders would not be able to keep their vans with their stalls, apart from unloading and loading. Disabled resident Anthony Henson, 63, has so far gathered up to 400 names in a petition opposing the project. He has been supported by town centre businesses who rely on the Market Place as the closest car park for customers and deliveries.
Mr Henson claimed: "The current plans are anti-disabled, anti-business and anti-banking. They strangulate the town centre and encourage people to travel further to find appropriate destinations."
He also claimed from discussions that some market traders were considering giving up on Sleaford and he has spoken to many people who select Sleaford to visit due to the proximity of the Market Place car parking.
"The parking is the hub of how Sleaford works. If you take that away, everything will wither," he warned.
Mr Henson said he had not seen any detailed research and economic reasoning for the refurbishment and its desired impact, but was willing to be convinced.
He said Remembrance Sunday services may be "disrespectfully squeezed" by the new layout.
He is urging people to write in to the council and is copying in Sleaford and North Hykeham MP Dr Caroline Johnson.
NKDC says the revamped Market Place would provide an improved setting for the Remembrance Day Parade, marking out the memorial as a central focal point, with a space remaining to accommodate the parade.
It was also considering the issue of traders who can only operate from their vehicles, such as the fishmonger and butcher.
Council leader, councillor Richard Wright, said restoring Sleaford Market Place as a central and welcoming space where people will dwell longer and spend more money, is key to keeping the town competitive. Any UK Shared Prosperity Fund funding not spent by March 2025 must be returned to Government.
He said: "The revamped Market Place would also deliver a much better space to support the larger events which champion Sleaford and boost both footfall and dwell time in the town centre, demonstrated recently by RiverLight Festival 2022 which a number of businesses said significantly increased trade." He said it is exploring options with Lincolnshire County Council on the use of space in loading bays for disabled users next to the library.