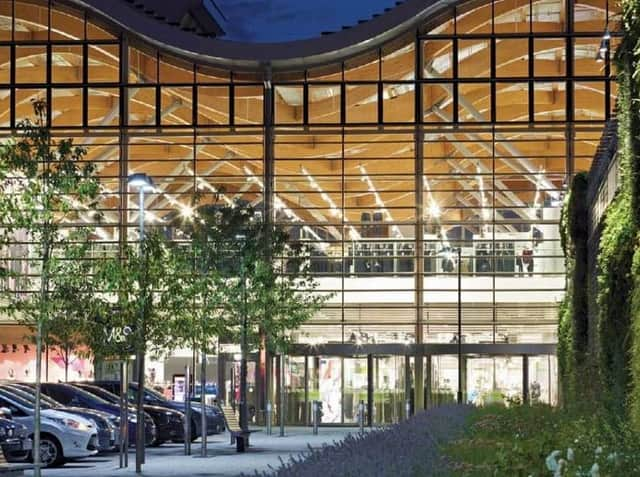 Visitors could be welcomed at upgraded railway station in Skegness.
Hundreds of readers took to social media to say how they thought the money should be spent when we announced following the Budget that the resort had been awarded £24.5 million in the Government Town Deal.
From having a 'big party on the beach' and then getting the potholes fixed to 'revamping Lumley Road' shopping street, there have been no shortage of suggestions.
Residents will have to wait until next month for the final decision by the 'Connected Coast' board - the body formed to create Town Investment Plans for Mablethorpe and Skegness Their ideas have together attracted £30m of support from local and national organisations and businesses, opening the door for future development.
Many readers called for investment in Lumley Road - which is highlighted in the Skegness Town Deal Investment Plan.
However, we delved into the Skegness Town Investment Plan to search for clues as to what the projects could be - and to get an insight into how the resort is likely to evolve along with the new investment we are already seeing.
Currently, Skegness is looking like a building site and, hopefully, when visitors flock back to the coast on April 17 they will see the bigger picture and forgive stretches of Roman Bank being closed due to renovation delays and Tower Esplanade being closed to pedestrians while the pedestrianisation works continue.
The transformation of Tower Esplanade from the Clock Tower to the beach is part of East Lindsey District Council's Foreshore Masterplan and in spite of already looking smarter is already attracting controversy as to how diverting the access to one of the town's main car parks will impact the flow of traffic looking for somewhere to park.
Other works that have started include Skegness Pier, recently bought by the Mellors Group, who have said they want to expand the structure as part of their plans.
An outside entertainments arena could be created in an upgraded boating lake area.
In the main shopping street of Lumley Road, there is also the renovation of the former Beales department store into a smart shopping plaza, which is due to open in April.
But with several national chain stores closing there are many other retail premises needing attention and it is hoped some of the £25m will be made available to other landlords to upgrade shop fronts.
East Lindsey District Council have tried to make this happen in the past, offering match-funding deals, but this failed to entice the majority of landlords - many of whom don't even live in the town - to dip into their pockets.
Offering 100 per cent of the cost hopefully will be be a game changer. A smarter, cleaner shopping street could attract niche businesses to support the new cafes that have sprung up during lockdown and are already creating a more pleasant environment for shoppers.
The boating lake area could be upgraded as part of the Skegness Town Investment Plan.
Elsewhere, there are still large areas of the foreshore looking neglected, especially along South Parade, where former bowling greens are overgrown and this is where the Town Deal can be most effected.
Mayor of Skegness Coun Mark Dannatt agreed investment in Skegness has been long overdue. He said: "I think the news of getting any grants at all is good, so £24.5 million is a big achievement.
"I finally believe they can see that we have be neglected for far too long and I look forward to seeing the projects that will be developed on the east coast."
AREAS HIGHLIGHTED IN SKEGNESS TOWN INVESTMENT PLAN FOR INVESTMENT
Pedestrianisation of Tower Esplanade is underway as part of ELDC's Masterplan for the resort.
Utilise the existing structures around the boating lake to create an outdoor events arena for activities such as concerts, light festivals and outdoor cinema, with associated improvements to local facilities.
Establishment of a new FE facility in Skegness, providing new and digitally delivered training opportunities for the coast which complement current provision in the locality.
Full renovation of the main station building, old Red star building, Station internal concourse and Canopy at Skegness station.
Neglected bowling greens on South Parade have been highlighted by readers as an area needing attention.
Town Centre Transformation:
Physical investment to upgrade the built environment on Lumley Road (from the Train Station to the Esplanade), transforming Skegness' neglected historic town centre and key gateway to visitors through a comprehensive town centre regeneration programme.
The multi-user trail is an opportunity to add significant value to one of the footpaths, along with the development of the interconnecting footpaths, cycle ways and a large bus turnaround to enable two bus routes to extend and interconnect, as a part of the wider project.
Centre for Training Police and provision of wider training capacity, conference and office accommodation.
Embassy Theatre and Cultural Lab to support cultural and arts education and Skegness building illuminations.
Integrated programme delivering accommodation, learning, employment childcare and leisure.
Infrastructure to open up employment and housing land.
HOW READERS WOULD LIKE TO SEE THE MONEY SPENT
If the 'Connected Coast' board have any doubts about the final projects to be approved, here's what our readers say:
Roseanne Pawson: "The pier needs a facelift and the roads aren't great. Something needs doing with the old QuickSave building on Old Wainfleet Road. The buildings near the View in Winthorpe are unsightly as well - and the bins need changing more regularly. And stop building caravan sites on our beautiful countryside. I think there's enough now."
Mel Kathleen Masters: "Investment into local businesses to bring the town alive. Although it's for the town, it is also the tourists that keep the shops, market etc open and spend the money for people to survive. Great town."
Julie Smith: "Revamp Lumley Road - most shops have gone and all the others are virtually all charity shops. We need a proper good shopping centre to bring tourists people back all year round. Nearest shops are Lincoln or further afield. There are four or five schools here and not a school uniform shop to be seen."
Chris Biggins: "A marina would be good, although I doubt there's enough money. So failing that, the lake area could use a proper makeover."
Marie Law: "Why when there is money to spend people always go on aesthetics? I don't give a monkeys whether I'm sitting on a painted bench, have a fancy bin to put rubbish in or stupid non pollen plants to make the place look nice (which are pointless to wildlife). What would make my life better, though, would be a better library, an outdoor free gym, community volunteering projects, free wi-fi hub, wildlife and environmental projects, pedestrian highways, cycle routs that take you somewhere rather than a few yards down a road that ends and start nowhere. There is so much more to life than the look on the outside, it's the inside workings of an area that truly count."
Louise Jackson: "Spend some of the money on the Tower Gardens. Bird crap had built up all over the railings and bridge last time I went. If they jet washed it once a week it would only take half hour. And it could do with some paint too. Not exactly a nice place to take children to see the ducks."
Sandra Smith: "Winthorpe by the View pub - it looks a mess on the right-hand side where The Dunes pub was burned down. It would be lovely to open as a pub again with outdoor seating.
James Pallender-Plant: Pedestrianise Lumley Road, except for local public services and transport.
Gemma Lenton: "The roads in Lincolnshire are shocking - this needs sorting first."
Katalin Gyurovszkiné Mihó: "More roads between Skegness and Ingoldmells because in the summer the traffic is just ridiculous and awful. No way in and no way out - just a long time to wait to be able to move in any directions.
Shawn Grainger: "Have a big party down the beach free drinks for everyone! Then fix the roads"
Graham Wheat: "More affordable industrial premises to create proper 12-month sustainable employment. Plenty has been spent over the last few years on the foreshore but I presume that ELDC have got it all earmarked for their upmarket eco caravan site on South Parade. The town needs industrial investment to create more jobs."
Establishment of a new Further Education facility in Skegness, providing new and digitally delivered training opportunities for the coast, is one of the projects suggested.