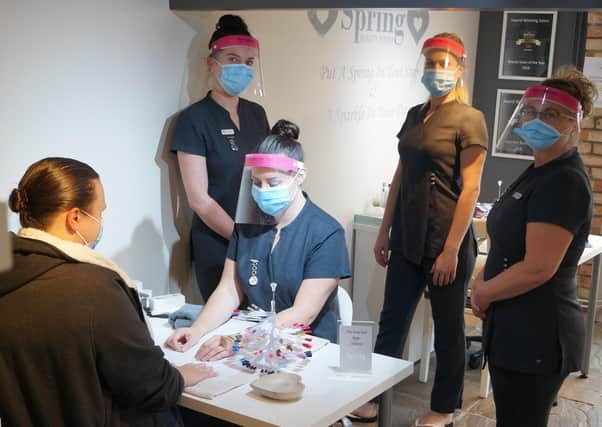 That is the message from Teresa Mack and Sarah Jlil, owners of PML beauty, as Spring Beauty is back up and running following lockdown.
All but two of the staff have returned from furlough and they will also be back in the next few weeks, just in time to celebrate PML's fourth anniversary at the Market Place Walk premises.
Teresa said: "It's so lovely to have the salon back open and feeling loved again with amazing feedback, we are looking forward to seeing more clients return once they feel comfortable.
"We are now able to deliver all treatments we have on offer and with most of the staff back have a variety of appointments available."
During lockdown Sarah, Teresa and the team worked hard on projects behind the scenes to secure the salon's re-opening in July.
Sarah said: "We worked hard to make sure we were Covid secure, but there were really only a few minor tweaks needed as a lot of what was produced in the guidelines was already in place at the salon.
"But now, following all new government guidelines the team is ready to deliver what we do best."
However, during the salon's enforced closure during lockdown, members of the Spring team were still supporting clients and each other.
Teresa said: "We all kept in touch via Zoom and we set up an online shop for customers to complete orders allowing for social distancing to be adhered to.
"I am no IT whizz and so there was a lot of upskilling going on.
"We had to find a new way to keep going."
Adjusting to new ways continues and the Spring team has changed its opening hours to reflect customer requests.
Due to the popularity of 'later-in-the-day' appointments, they are putting in an extra late-night opening.
This means opening days have been adjusted as well, with the salon currently open from Tuesday to Saturday, but this may change as time goes on.
Teresa continued: "We missed our clients, as we realised we are social butterflies and over the years have built up trust and relationships with our clients, so to not see them was very hard.
"It's been amazingly overwhelming at times with the support we received through lockdown and beyond, and we are grateful to all of our clients for their kind continued words of encouragement.
"We managed to keep in touch via social media and email, and the odd telephone chat kept us going too.
"We still have a long way to go to recover, but know we have the full support of the town, the local council and the surrounding community behind us."