Rasen's March Hare rated amongst 'top 10 percent'
The March Hare in Market Rasen has been given special recognition after being rated amongst the top 10 per cent of restaurants in the world, according to TripAdvisor ratings and reviews.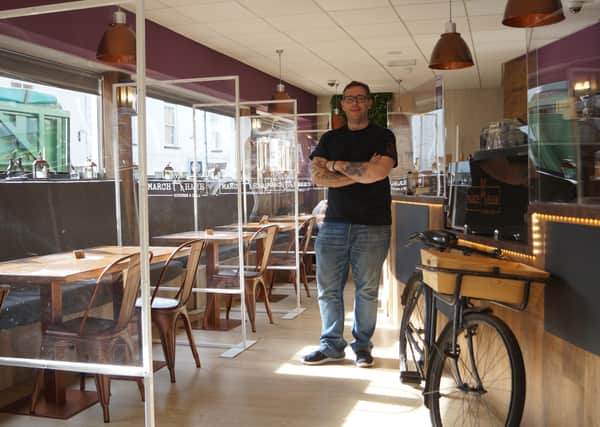 The market place business was amongst those to receive the TripAdvisor Travellers' Choice 'Best of the Best' Award for restaurants worldwide, which is based upon a full year of reviews, prior to changes caused by the pandemic.
Award winners exemplify 'exceptional and unique' hospitality businesses around the globe, and The March Hare owner Trevor Guerin was thrilled to receive the accolade – when he finally believed it.
Trevor said: "I ignored the email to start with, as I thought it was just another TripAdvisor promo, but when I spoke to a good friend of mine, Paul Hugill at Louth's Priory Hotel, I realised what it was.
"I am flabbergasted how a small place in Rasen can rank in the top 10 of the world for service and customer experience, but TripAdvisor says we are, so we will take that."
However, Trevor is quick to point out it is a team effort.
He said: "It is not just down to myself, it is based on reviews of service as well as the food presented.
"Lots of credit must go to our front-of-house team staff; without them we wouldn't get the good reviews we do; we have a great team here."
Like all businesses, The March Hare team was greatly challenged during lockdown and when it was time to reopen, Trevor said they 'pulled together' to get things done.
Their work has paid off, with the businesses's latest reviews praising the work done to make the premises covid-secure.
This has included investment in clear screens to separate tables.
Trevor said: "We thought long and hard about the best way to partition people, but still let them be a part of the social aspect of eating out in a safe way.
"The screens keep different groups apart, but means they can see the other people and give a friendly wave.
"We have also invested in a fogging machine, which is put on every day when we leave.
"When people arrive, they scan the QR for tracing information and they can also order at the table and pay via QR code."
March Hare customers have welcomed the changes.
Trevor said: "We have had some excellent feedback.
"A lot of people came in here for their first time out and have said they feel so safe, they won't be going anywhere else.
"It is great that our efforts are appreciated."
Trevor admits, however, he wouldn't have been able to do all this without the government grant and utilising the bounce bank loan scheme.
But he is looking to the future and last week restarted his Friday and Saturday evening openings.
He said: "We have changed what we did before and will be offering 'little dishes' as well as artisan sourdough pizzas and our popular grazing platters from 5.30pm to 8.30pm.
"It will be very informal – trying to create a more 'instagramable' atmosphere; helping bring the metropolitan into the small town."
As a separate business, Trevor is taking over the B&B above The March Hare.
Rooms on the Square will great three part-time positions once they have been renovated.
Trevor said: "They will look different to what people would expect, so watch this space."