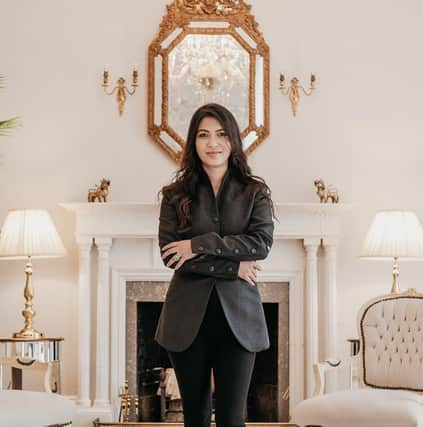 Sanyukta Shrestha has been shortlisted as a finalist in the 'Environmental/Sustainable Business of the Year' by Lincolnshire Business Excellence awards 2023.
Sanyukta has been described as a "pioneer in the concept of sustainable luxury" since the first launch of her eco-friendly brand in 2011, winning multiple awards over the years, including the PETA Luxury Vegan Wedding Awards in 2021 for her cruelty free, handcrafted bridal designs.
Ashish Shrestha, Co–founder and Managing Director, said: "We are delighted that 'Sanyukta Shrestha' has been shortlisted for an 'Environmental/Sustainable Business of the Year' Award.
"To be recognised alongside other leading and long established businesses beyond bridal industry is a testament to her dedication and commitment towards sustainability. We believe sustainable enterprises are the future of any business and we're incredibly proud to be believing her ethical values and investing our efforts to deliver a tangible impact for animal welfare, local community and the planet." -
The judging panel evaluated over 200 entries across ten categories, ultimately selecting the top businesses to recognise and celebrate their achievements across the country. The awards specifically acknowledge their resilience and outstanding business acumen, which has contributed to the growth
and development of the local community.
This prestigious awards evening will take place on Friday, May 26, the culmination of Lincolnshire Business Week, at the Engine Shed in Lincoln, hosted by ITV weather presenter, Emma Jesson.
This year alone, Sanyukta has been shortlisted for the 'Visionary Leadership Award' and won Wedding Boutique of the Year 2023 Award in London by Britain's Asian Wedding Awards last month.
Sanyukta said: "I am speechless to be the finalist for 'Environmental/Sustainable Business of the Year'.
"This is the third award already this year in the UK and I feel blessed to be chosen as one of the best in the country.
"This is already a huge award for our company to be shortlisted next to the large and long-established companies like CorrBoard UK, Lincolnshire Wildlife Park and Parkacre.
"This is absolutely mesmerising, yet out of my imagination as we are the only bridal fashion company to be nominated for this Award.
"Surely a moment of pride, strength and integrity towards a sustainable planet."