Rebecca Fearn, 24, joined other finalists on Zoom to watch the winner being announced. She will now go on to participate in the Miss England contest.
It is 40 years since the first Miss Lincolnshire competition was held, and it has been organised by former DJ 'Phil Green', who hosted the 1981 final at the Lincolnshire show ground.
The nine finalists had submitted homemade videos of themselves talking to the camera and doing a catwalk, all filmed on their mobile phones. They have also been campaigning for votes on social media and through the Miss England app, raising funds for charity.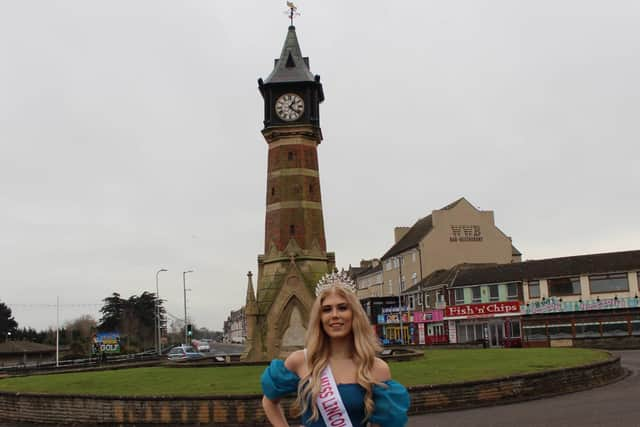 Rebecca said entering the contest in lockdown had been quite a journey - but not the one she had planned as Covid-19 restrictions had prevented her from completing an 82-mile charity ride from her home town of Mansfield to Skegness as one of the rounds of the competition.
Within an hour of winning Miss Lincolnshire, Rebecca was presented with Flowers by Simone of Lincoln, a tiara crown, sash and a bottle of bubbly
"I am so excited to have been crowned the new Miss Lincolnshire," she said. "I was inspired to do it by my grandma and entered Miss Nottingham, although I didn't really think it was for me.
"I didn't win but I did see how different the contests are from what I expected. Miss Lincolnshire's motto is Beauty with a Purpose and I realised the good I could do if I won along with my charity work.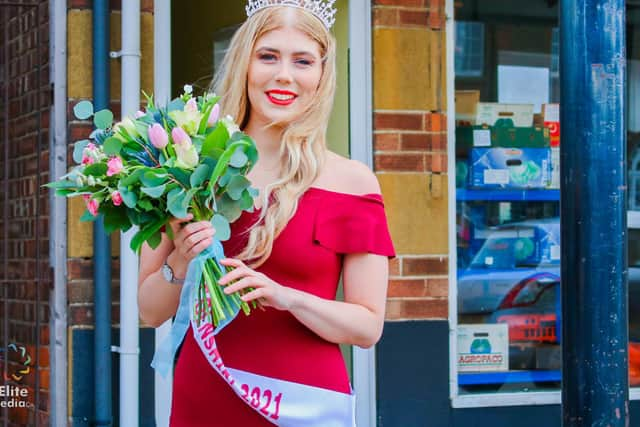 "I applied almost a year ago in the hope of winning and after being pushed back three times, the competition finally went ahead via Zoom.
"It was nice to meet the other contestants, judges and others involved, even though it was virtually.
"I was so overwhelmed with all the support and, with over 4,000 votes, I also won the title of Miss Popularity
."I have enjoyed every moment of the process and I look forward to representing Lincolnshire and Skegness in Miss England."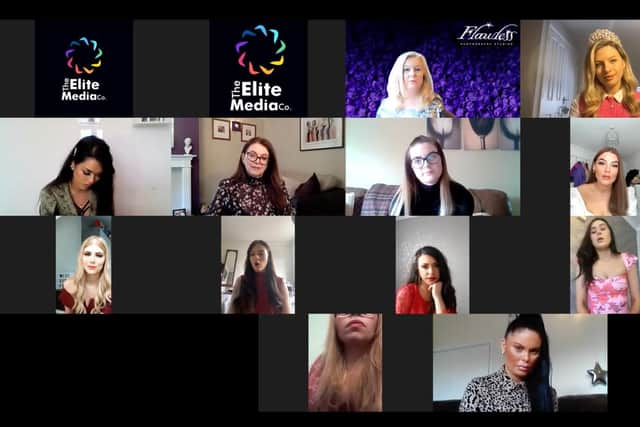 "During the course of the Miss Lincolnshire competition I have been so honoured to raise money for @beautywithapurposeofficial and I can't wait to continue my charity work with Miss England.."
Rebecca moved to Skegness two years ago to work as a Redcoat at Butlins, but was furloughed. Last year, she started two businesses - a travel agency.and For Hair by Rebecca-Jay, offering her skills as a mobile hair extensions technician
She is currently studying an online business course..
"I started the travel agency whilst I was on furlough to make a side earning and it really took off and I've always been interested in doing hair as my mum and my auntie are hairdressers," said Rebecca-Jay.
"I can't wait for lockdown restrictions to lift so I can really give my businesses a great start.
"A lot of business have had it hard having to close during these times as it will be great to be able to go out and support them again."
Rebecca-Jay says she can't wait to to be able to start being an ambassador for Skegness and Lincolnshire.
In the meantime she is devoting some of her time to litter picking on the beach, an environment project she has previously started but hopes to expand.
She hopes also to have the opportunity to complete the 82-mile ride from Mansfield to Skegness, supporting the Miss World official charity, which helps disadvantaged children and women from all across the world.
"My grandma did this same thing when she was just 15, so the ride also has a lot of sentimental value," she said.
Runner-up of Miss Lincolnshire was, Boston language student, Mia Rothwel.
The Miss England contest takes place in May but the decision on whether it will be held in Birmingham as planned or will be another Zoom contest depends on Covid-19 restrictions.