Sleaford area businesses adapting to COVID-19 concerns while some are actually recruiting
More and more Sleaford area restaurants and food outlets are reacting to the government's coronavirus warnings about distancing yourselves from others and serving up take-away and delivery services.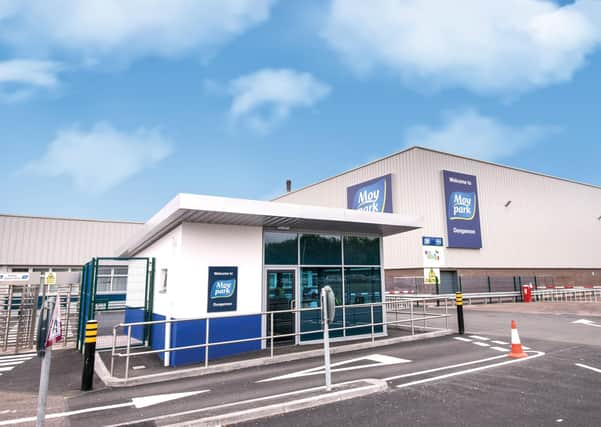 With a relaxation on planning restrictions and other rules, businesses are being thrown a lifeline to keep afloat by shifting how they operate.
The Houblon Arms at Oasby, Crown & Anchor at Welby and The Plough at Wilsford are all offering a takeaway menu service with free delivery to local villages of Wilsford, Kelby and Ancaster from The Plough as well as takeaway vouchers to buy for those self-isolating.
Chairman of Heydour Parish Council, Norman Hatcliff added: "In the meantime, keep safe and keep an eye out for your friends and neighbours in case they have to self isolate and need help with getting shopping, supplies, prescriptions or just need some contact albeit at a distance.
"If anybody does need help such as this if they are self isolated or not mobile, then please feel free to email me [email protected] or call me on 07879 447 427.
"Through the network of contacts I have by way of the email distribution list for the Village Hall and Church I will use my best endeavours to find someone in the community who may be able to help you with your needs."
Little Italy Pizza company in Sleaford are offering to carry pizza orders out to cars of people needing to self-isolate while Domino's Pizza branches across the country are offering NHS workers a free pizza this Friday on showing their ID badges as a thank you to their ongoing efforts.
The Carre Arms Hotel & Restaurant in Sleaford is also now offering a take away service on its menus. They added: "We are following all Government and WHO advice on hygiene, health and travel procedures and have implemented stringent procedures in our hotel. In addition to our staff members washing their hands even more frequently than normal and using hand sanitizer gel at regular intervals we are thoroughly."
The Barge and Bottle in Sleaford is also doing a pick up and delivery service.
They say they are operating as normal at the moment, but offering takeaways for those worried about COVID-19.
"If you're self-isolating and needing a delivery we can leave your food at your doorstep and give you a knock, of if you're collecting and wanting to wait in your vehicle we will bring your dish out as quickly as possible ensuring you let us know your vehicle make, model, colour and registration number on the phone before."
The menu will stay the same and can be found on their website www.thebargeandbottle.co.uk or phone up. on 01529 303303. They are also offering a variety of drinks to be picked up or delivered.
Costa Coffee has also announced customers will not be allowed to sit in its dining areas due to coronavirus fears and guidance on social distancing.
The company says it is following government advice and will make changes at its Sleaford shop accordingly.
In a statement today (Wednesday) it said it will also no longer serve drinks in re-usable cups but they will still honour the 25p discount if you bring the cup and food will be in takeaway packaging as stores go cashless too, accepting only card payments.
CEO Jill McDonald said: "At Costa Coffee our number one priority is the safety and wellbeing of our team members and customers.
Their toilets will continue to be open for customers.
All stores will temporarily remove newspapers as they cannot clean them. All stores will also have a more limited food range.
Costa Express machines (which are installed in many convenience stores around the town including Co-ops and Spar shops, continue to operate as normal for those customers on-the-go.
Staff with symptoms are asked to stay at home and self-isolate for at least seven days. If a team member lives with someone else and they have symptoms, then they have been requested that they stay home and follow the Government recommendations for household isolation.
Ms McDonald said: "Whilst some of these changes will feel quite disruptive we believe they are the right thing to do for our customers and store teams. We are especially mindful of the move to takeaway only and ask that customers dispose of and recycle their Costa Coffee packaging responsibly. We will continue to recycle cups and welcome you dropping them back into store, if possible.
"These are difficult times and where we can provide a safe and familiar environment in your community, we hope to do so."
Villagers in Leasingham have also set up a Facebook group for anyone willing to volunteer to help other local reisdents self-isolating.
Steven Milligan set up the group explaining: "I've set up a Facebook page to coordinate the fantastic offers of help and link them to anyone in need of assistance during the social distancing.
He said of the Leasingham Coronavirus Community Support Page: "Please feel free to post if you are in need of any support, supplies, assistance. Anything big or small.
"Equally if you are able to help out and collect items, walk dogs, do shopping, collect prescriptions then post your availability.
"Please let people who are not on Facebook know. Kayleigh at Headlines Hair Studio has kindly offered to be a daytime contact number for those who are in need of assistance. 01529 413313."
Businesswoman Sophie Hare of Hare And Beauty beauty salon in Ruskington also appealed for support from her customers via facebook: "I know treatments aren't quite as important as the necessities, but I have staff wages to pay that unfortunately if we aren't busy due to this virus won't happen. We have had a lot of people cancel this week due to the virus.
"We are all taking this very seriously and are doing our best to keep the salon at it's usual clean standard. We have hand sanitizer foam and sprays for everyone to use before and after every treatment.
"If you have any symptoms please cancel your appointment, alternatively if you are fine and not classed as high risk please don't be concerned as us staff are only coming in if we are 100% with no symptoms at all!
"This is a very concerning time for all of us," she said. In response she was met with a wave of support and pledges of people still keen to honour appointments.
With food production seen by the government as a frontline service, major local employer Moy Park is calling for more people to join its team at its Anwick poultry processing factory.
Following a marked increase in grocery retail and subsequent demand for poultry produce due to COVID-19, Moy Park has listed hundreds of temporary job opportunities at its sites across the country.
The company is looking for people to join its teams across a range of roles in its agriculture and production operations. Moy Park says many of these positions could be particularly suitable to those from within the hospitality industry due to an existing awareness and familiarity with food hygiene and safety regulations, as well as other transferrable skills.
Speaking about the opportunities, Moy Park HR and Performance Director, Kirsty Wilkins said: "There has been a noticeable increase in grocery sales as people practice social distancing and self-isolate. This has resulted in a heightened demand for chicken produce and with it, opportunities in the sector to meet this demand. As a team we are committed to ensuring we provide nutritious food for our communities, and we are keen to support individuals who are looking for short term employment to meet changing consumer purchasing habits.
"This increase in grocery retail comes at a time when there has been a fall in demand across our sister sectors of hospitality and tourism as people's socialising and travel plans are curtailed. We hope the pressure being faced across these industries is short term and, in the meantime, we are keen to help anyone looking for a job through these new opportunities."
Discussing its own COVID-19 precautionary measures, Kirsty added: "The health and wellbeing of our team is our most important consideration and we are following all relevant government advice and protocols. This includes increased frequency of the sanitising of communal areas and increased availability of Personal Protective Equipment (PPE) across our factories. Our business is nothing without the people and the farms who supply us. We are thankful to all our team members who are doing a fantastic job. We continue to operate as normal and we have a dedicated team in place which has given careful thought and planning to how we will manage different scenarios."