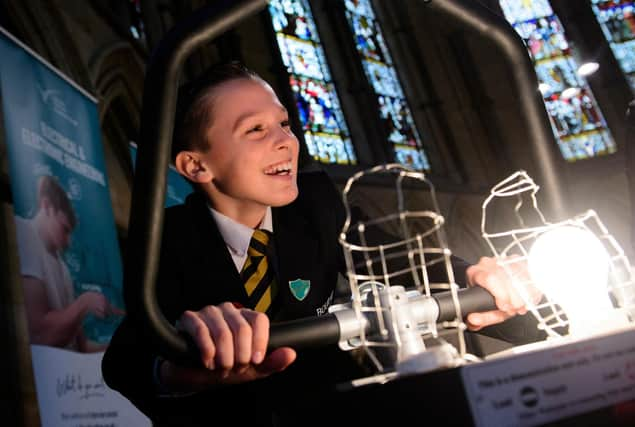 Aiming to inspire future generations and showcase Lincolnshire as a leader in engineering innovation, now and in the future, this is the first year the Spark Engineering Festival has been held since before covid.
The event will take place on July 7 and 8.
Siemens Energy has been announced as the headline sponsor at the biennial festival, along with other sponsors, including City of Lincoln Council, Greater Lincolnshire Local Enterprise Partnership, Investors in Lincoln, and Abbey Access Training Centre.
John Latham, Chair of the Spark Engineering Festival steering group, said: "We are delighted to bring this festival back after a three-year break due to the covid pandemic and are thankful to Siemens Energy for once again pledging their support as headline sponsor and making the event possible.
"Before covid, Spark had really gained momentum and quickly became one of the standout events in the annual calendar for engineers, teachers, students and businesses from all over the county.
"But this year, we are delighted the appetite is still there and we have the support of the fantastic businesses across the county."
This year will see the addition of a 3D printed, 9-foot futuristic robot and Audi's first all-electric super car, the Audi E-Tron GT, along with the return of exhibits from Lincolnshire engineering businesses.
Organised as a partnership event by the Lincolnshire Chamber of Commerce, the Lincoln Engineering Breakfast and representatives from local businesses, as well as education providers, Spark aims to promote Lincolnshire as an engineering hotspot and inspire local young people to consider a career in the science, technology, engineering, and maths industries.
Visitors can expect to see several interactive displays and impressive exhibits, including the world record breaking Monowheels, together with a display about the use of robotics in engineering.
Science busking demonstrations will also be taking place, as well as a variety of hands-on activities suitable for all ages.
The free event will be open to local schools on Friday July 7 and will showcase cutting- edge developments in science, technology, engineering, and maths happening across the county right now.
On Saturday July 8, the festival is free to the public, who will be welcome to explore the exhibits, as well as the magnificent Cathedral, an engineering masterpiece in its own right.
John added: "It is incredibly important to encourage an interest in engineering from a young age, sochildren understand the benefit of science and maths.
"We want to give an insight into the career opportunities on offer in this sector so a real focus can be given to the skills needed in early education."