Sales of the 2018 Ovens Farm vintages have received a welcome boost from a rise in online business after orders, including from the Michelin star Winteringham Fields restaurant, dried up when the country went into lockdown.
It has not been an easy year for Ovens Farm distillers Simon and Bridget White - now in their third year of production.
English vineyards have, like most hospitality businesses, been hugely affected by the Covid-19 pandemic.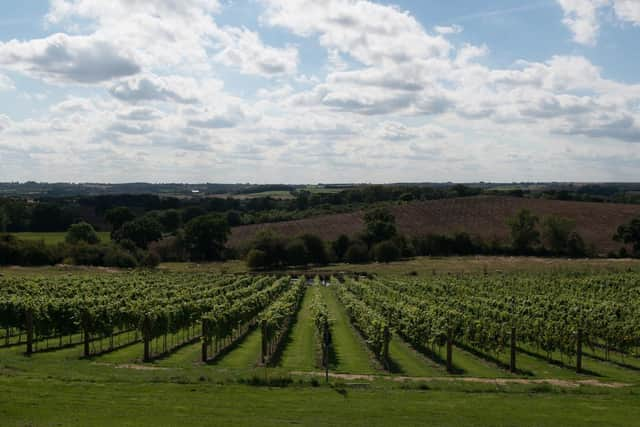 Popular tours and tasting sessions have been put on hold, with the recent English Wine Week a welcome opportunity to meet customers and sell from the cellar door - clearing the way for the 2019 vintages to be bottled..
England now has more than 500 vineyards, with a growing reputation for making some of the best sparkling wines around as well as producing excellent still wines.
However, hidden from public view in the heart of an area of outstanding beauty in the Lincolnshire Wolds at Harrington, many wine lovers are only just discovering Ovens Farm.
But those who have are not surprised to see the 2019 London Wine Competition bronze award proudly displayed on their website.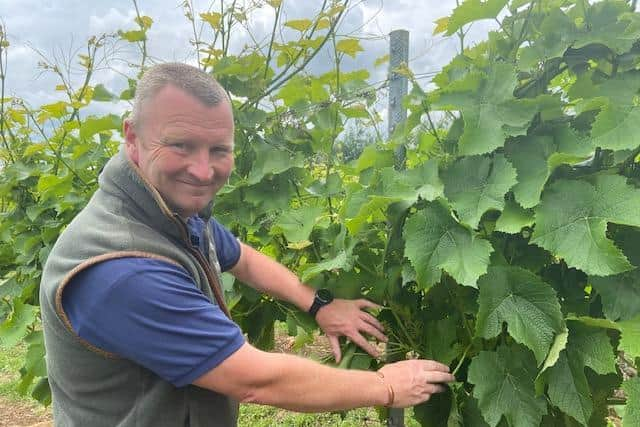 The dream of Simon and Bridget White to establish a vineyard is at last unfolding.
Both from farming families and previously holding challenging careers in the food industry, the couple had wanted a change of pace and to find something that they could do together.
Deciding on developing a vineyard in England came by chance after tasting Chapel Downs Bacchus wine.
"We had drunk English wine before and had never been that impressed until we tried Chapel Downs Bacchus," said Simon, whose family farms at Frampton.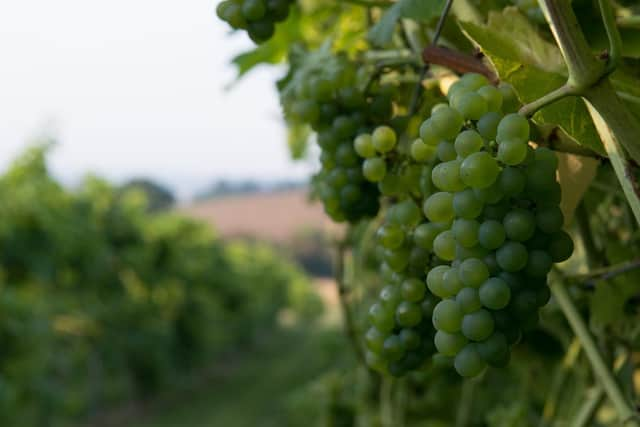 "We were blown away with it and immediately started looking for a suitable location to develop a winery of our own."
They bought Ovens Farm in 2014 and in 2015 planted their first vines with the help of family and friends on south-facing slopes, in a micro-climate sheltered from the north winds by the Lincolnshire Wolds.
"We are told that's how Ovens Farm got its name - the temperature here is usually around 3C higher than elsewhere in the county making it perfect for growing grapes," said Simon.
"We chose to plant both red and white cool climate varieties making it perfect s and produce both still and sparkling wines.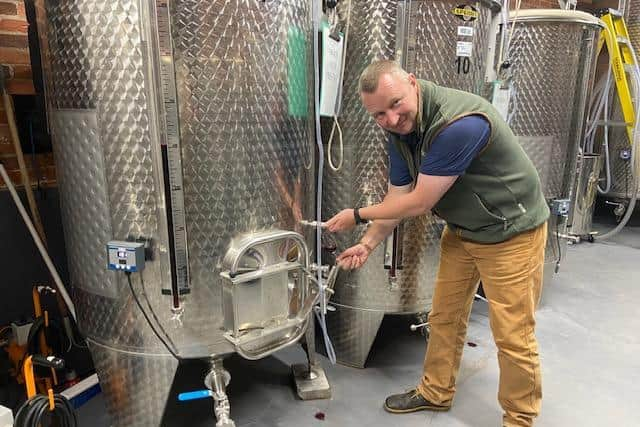 "We also produce a sloe gin and have developed a gin which we are infusing with our vine flowers."
Soils vary across the plantation with sandy loams at the top of the vineyard running into heavier clay soils at the bottom of the hill. Sub soils run from chalk and limestone in some areas through to ironstone in others and each of these elements brings something different to the wines they produce. The winery started life as a traditional farm building built to store produce. It has been renovated and now contains a range of stainless steel wine tanks in the wines are fermented.
There is a tasting room that can accommodate up to 12 people, but that has been closed due to the pandemic, another blow to 2018 sales.
The 2019 vintages - Solaris, Baccus, Sparkling and Brut Rose, Pinot Noir and Rondo - are almost ready to be bottled will be available for purchase in about two months' time.
Working the plantation is very much a family affair, with the help of a team of working cockers - Mollie, Cassie, Nutmeg and Pippin - who chase away the rabbits and keep the deer away.
Autumn is a special time of year when volunteers come from across the country to help pick the grapes. "We start at weekends at the end of September running into November," said Simon. "It's become very popular - in return for people's help we serve coffee and cake in the mornings and a buffet lunch and they go away with a couple of bottles of wine.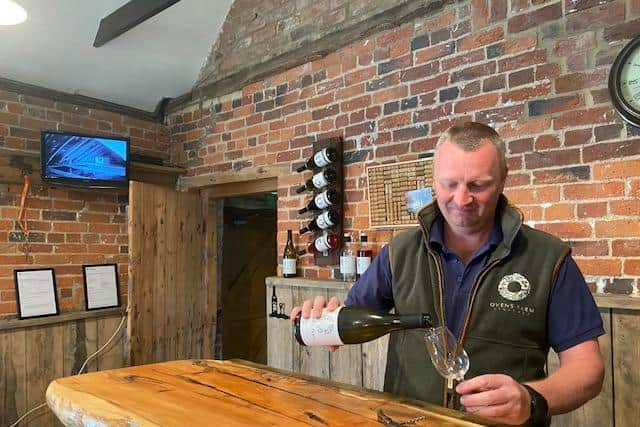 "It's lovely to see the interaction of people while they are picking. Some come for a day and some for the whole period. It's a very special time."
GUIDE TO OVENS FARM WINES
2018 BACCHUS Pale gold hue. Aromatics of cut grass, complexed with lime blossom. The palate has notes of citrus fruits, hedgerow herbaceous character and a hint of green pepper to the finish. Dry, crisp, and clean palate with good structure and a long finish. Partner this wine with goats cheese or Feta; herby dishes, particularly with basil, or coriander; or grilled sardines or mackerel.
2018 SOLARIS Pale gold in colour, this wine has elegant aromas of passion fruit and rose petal. The palate gives a fruit forward rush of delicious, juicy, grapey character, with citrus notes lingering on the finish. Bright acidity but balanced well with fruity depth of flavours. Partner with spicy Thai dishes; or try with prawns or lobster.
2018 SPARKLING BRUT ROSÉ - This sparkling wine is made from our Pinot Noir grapes in the traditional method. The first fermentation taking place in tank and the second fermentation taking place in bottle. An attractive rose gold colour, this delicious sparkling wine has delightful aromas of strawberries and cream, with a light floral / spicy hint of dried hibiscus. Palate has vibrant fruit – raspberry, redcurrant and strawberry, with a soft textured, creamy mousse. Crisp and clean to the finish.
2019 PINOT NOIR - To be released later this year An attractive pale purple hue, this wine has aromas of cherry, raspberry and forest floor aromas with rich oak with notes of cedar. Palate has more cherry and raspberry character, complexed with earthy, sweet oak vanillin's giving a silky texture to the finish. An excellent pairing with mushroom dishes, salmon or other fatty fish, or roasted chicken.
2019 RONDO - To be released later this year Vibrant, deep ruby colour. Aromas of strawberries, jammy raspberry and vanilla, with a hint of autumnal woodland. The palate opens up to a fruit forward style with plum and more ripe berry character complexed with soft oaky tannins. Enjoy with duck, lamb or rich casseroles.
Visits and tastings are for the time being still on hold, but sales can be made online and by appointment.