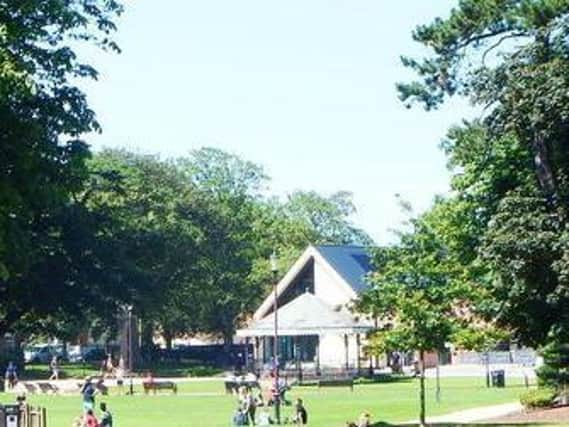 The budget debate whIch called for a rise in the 2021/22 precept of 27 percent, took place during a zoom meeting of Skegness Town Council
For the past few years, the council has maintained a precept rise of around 4.75 per cent - during which time they have built a new £1.6million community hub and cafe, as well as taking on the responsibility of Tower Gardens and a car park among assets acquired from ELDC.
Cutting grass throughout the town and employing more staff have also been covered by the town council..
However, in spite of previous efforts not to increase the precept, rising costs, the impact of Covid-19 and the uncertainty of the future has resulted in a review of the budget requirement.
A report delivered by Town Clerk.Steve Larner said: "This year's budget round is very challenging as COVID-19 has presented significant issues relating to both income and expenditure in 2020/21 and there is the very real prospect that these issues will continue into 2021/22.
"Additionally, there have been some challenges in respect of some of the transferred land parcels, with unplanned expenditure to deal with urgent situations.
"Expenditure in 2020/21 and reduction in income caused by Covid-19 will reduce the Council's General Reserve by the end of the year.
"This will need to be reinstated to a minimum level to manage risks next year and beyond.
"There is still uncertainty about ongoing costs for Tower Gardens and the new building and until these have been operational under normal circumstances for some time, budgets will be based on estimates on the best available information. As Council reserves are relatively low, it is very important to be cautious about projected income and to ensure that any changes to plans are properly managed.
"2020/21 is an extremely difficult year and this is going to result in financial challenges that have not been seen in recent times by the Town Council. Essentially expenditure is higher than expected and income significantly reduced.
"Last year, in order to keep the precept to 4.75%, any wriggle room within budgets was removed and some budgets (e.g. Employee costs) were set at a lower level than originally estimated (the pay award allowance was dropped from 3% to 2.5%).
"The Business Plan is yet to be costed and so the figures here do not include anything for new or additional services. Any decisions taken in this respect will add further to the cost. 3.3 In planning its finances Council must have regard to future years and the need to have a balanced budget.
"Whilst it may be tempting to raid ear marked reserves to subsidise the coming year, this is a bit like selling the family silver - it can only be done once. Since there is no significant evidence that COVID will be beaten by 2021/22, Council must be prepared for potential peaks of higher expenditure and lower income for the next few years.
"Currently an increase in the precept of around 25% to 30% looks necessary to stand still. Clearly this is a massive headline percentage rate, but it is worth considering what this is in monetary value and the impact. The increase would be about 50p per week for a band D property and about 34p per week for a band A property, less than a small bag of crisps.
"Many people on lower wages will be entitled to a Council Tax reduction. This is administered by ELDC and so the amount of the precept actually paid will be very much lower for these people.
"Even with such an increase the Skegness precept would still be considerably lower than the current year precept in Mablethorpe and lower than that in Alford."
Coun Sid Dennis commented: the rise would not 'send anyone to the food bank' and called for clarification on the figures in real money and not percentages..
"We have done great things for the town in the past 10 years - look at the new build, grass cutting, the staff and the car park," he said.
"But we are are low on reserves - there could be a flood in the middle of the winter.
"If the rise is 40p a week and councillors go out to their wards and explain what we do, I don't think there will be a problem.
"We can't get to a position where we can't afford more things.
"We are in charge now - let's not make a hash of it by nit-picking.
"Let's give people inspiration and move our town forward."
However, Coun Danny Brookes who was chairing the meeting, pointed out they were not talking about a rise of just one small bag of crisps.
He said: "The problem we have is if we go to constituents and say we are going to increase the precept by £24 a year they will assume it's the whole council tax bill.
"Unfortunately that is not the case - police, LCC and ELDC will be added onto this. If you told them the full amount they would say we are ripping them off.
"When we were looking at taking on extra stuff we told residents we would not be putting the council tax up 20-30 percent - now it's 27 percent.
"I don't think constituents will be happy this year."
Coun Adrian Findley said he completely understood what Coun Sid Dennis was saying regarding 'we can't deliver services without money in the pot' but thought a 27 percent rise would be too high.
"For the past four or five years we have sustained a working council and at around 4.75 percent," he said.
"We need to keep any rise to a minimum and not rip off people who have been through a global pandemic, losing jobs and everything else."
Coun Dan Brookes pointed out there had been no suggestions on how the council could save money.
"We have to decide to whether to stop delivering services or raise the precept," he said.
Coun Dennis added he had voted against every low precept rise. He said: "I believe we have to invest in the community and in people."
Coun Tye said he was in favour of a rise but warned with the addition of the police, LCC and ELDC precepts the total tax bill could be 57 percent more.
"We don't want to be part of that," he said. "But I don't think it has to be anywhere near 27 percent.
"We need to ask the town clerk to go back with his sharpened pencil and revisit the budget and come back to us with physical money and not percentages.
"We have to look at the long game."
The council agreed to revisit the precept at a future meeting.