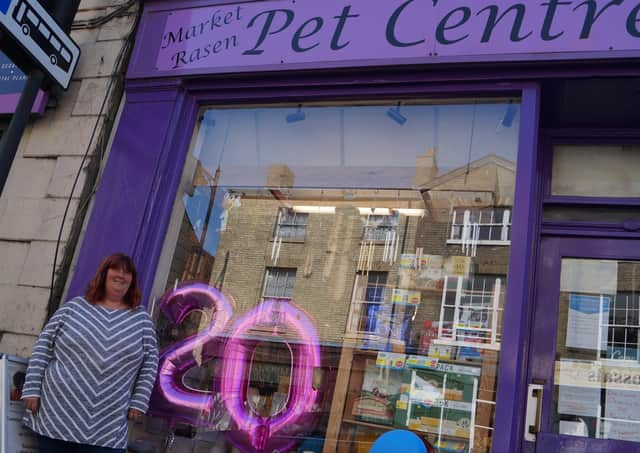 Bridget Pitman-Brand runs Market Rasen Pet Centre in Queen Street and marked the anniversary with balloons and bonuses for customers.
When Bridget started the business 20 years ago with her husband, Lee, the idea was to just be there for the seven years on the lease.
However, she enjoyed the shop so much she carried on, even after the untimely death of Lee.
Bridget said: "I really enjoyed getting to know the people; it was just great to be part of the town.
"Over the years, I have got to the know the names of the pets better than the names of the owners, but my customers are very loyal and I thank them for that.
"Without them [customers] I wouldn't be here.
"A business is only as good as the staff and customers."
Bridget added the success of her 20 years in the town was down to 'putting in the effort'.
That is certainly what Bridget has done this year, as she remained open throughout out the lockdown period and increased her delivery service by more than 900 per cent.
Bridget said: "The business went crazy, especially with the deliveries for people self isolating.
"I have always done deliveries, but it went up from 10 or so a week to around 100 a week.
"I am still doing more now than before lockdown, as there are still people reluctant to come out."
At times, Bridget admits it was a bit of a struggle though, with some of the suppliers struggling to get products to the shop, sometimes due to lack of packaging.
However, Bridget feels the pandemic had a positive effect on the town's high street.
She said: "Coronavirus has brought it home to people that we need the little high streets, as people don't want to go to the cities, where they are at a higher risk of infection.
"Rose & Berries, the butchers and I all stayed open and filled the gaps; people realised they do need the high street - now we need them to continue to support us.
"I am committed to this town's high street and if I can make a living for myself I will happily carry on for the next 20 years."