Two lucky spinner winners at Spar in Sleaford
There were two lucky winners when customers at a Sleaford convenience store spun a wheel to pocket prizes.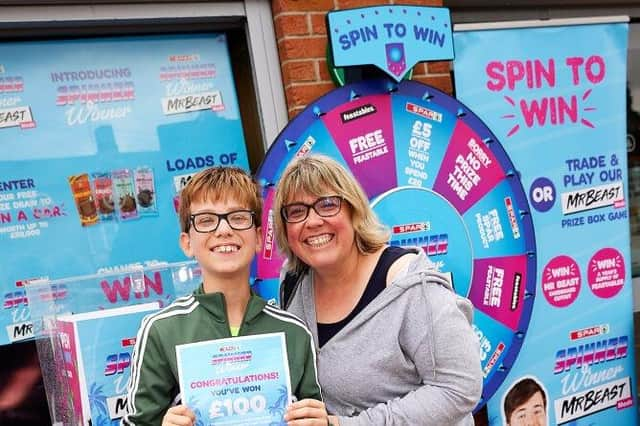 SPAR has been running a summer promotional campaign that combines fun and excitement for shoppers at some of their stores, in collaboration with well known internet personality and philanthropist, MrBeast.
SPAR has been selected as the exclusive convenience store chain in the UK stocking MrBeast's new Feastables chocolate bars and to promote this customers around the country have been getting an opportunity to spin a wheel and win fantastic prizes.
MrBeast said: "It's a fantastic opportunity for my fans to engage in a fun and interactive experience while having a shot at winning some amazing prizes."
Every spin also entered players into a grand prize draw at the end of the campaign, running until August 30, with a prize pot of £150,000 offering everything from a car to £10,000 cash.
The A F Blakemore Spar store in Grantham Road in Sleaford was one of 41 selected stores hosting the in-store Spinner Winner game where people could win instant merchandise prizes or forfeit them to try the Beastmode game to find the correct key to unlock a mystery box.
The touring event on Sunday August 13 proved very popular and Anna Black won a £100 cash prize while Leanne Davey won a yearly supply of Feastables.
People could also join in the spinner game online.