Veterinary nursing college opens at old Rasen bank building
New life has been breathed into one of Market Rasen's former bank buildings with the opening of a veterinary nursing college.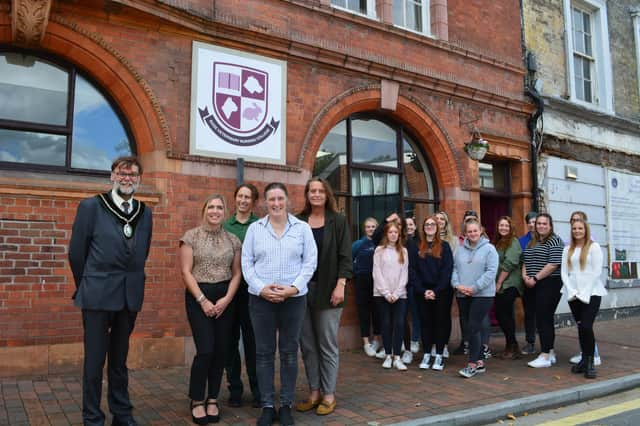 Students, thje college team and the Town Mayor outside the newly renovated building
Rase Veterinary Nursing College is based at the old Natwest Bank in the market place, which has undergone an extensive refurbishment to become a modern nursing college facility.
Head of centre, Norrie Graham MRCVS, welcomed Market Rasen Mayor Coun Stephen Bunney to the college last Wednesday (September 7) to formally open the educational facility.
Norrie said: "Rase Veterinary Nursing College is a new college and we are accredited by Vetskill and offer a two-year Diploma course in Veterinary Nursing, recognised by the Royal College of Veterinary Surgeons."
Lessons begin for the veterinary nursing students
The course has been written, and will be taught by, veterinary surgeon Becky Brooks MRCVS, who has a wealth of teaching experience.
Becky has worked as a vet in practice for 20 years, but has also lectured in Veterinary Physiotherapy at Nottingham University Vet School .
Carolyn Rooke RVN and Tracy Oliver RVN make up the rest of the college team.
An intake of 14 first year students – who will spend one day a week at the site - began their studies last week, all coming from the 20 practices run by Rase Vets – from Doncaster to Boston.
Town Mayor Stephen Bunney officially opened the college with Head of Centre Norrie Graham MRCVS
Norrie said: "We are pleased to have the support of Rase Vets to get our first cohort of students. However, the nursing college is an entity of its own and will be a main training provider from next year and will be open to applicants from all practices for September 2023."
Anyone interested in a career in veterinary nursing can contact Rase Veterinary Nursing College through its Facebook page.
Town Mayor, Coun Stephen Bunney said he is delighted to see this 'redundant building being used positively'.
He said: "It is fantastic that a successful business on the outskirts of town has moved into the centre and brought about rejuvenation.
"The Portas Pilot into the future of the high street said there would be a change from traditional retailing and this is what we have here.
"It is easy to criticise our high street, but there is a bit of a buzz that things are now happening."