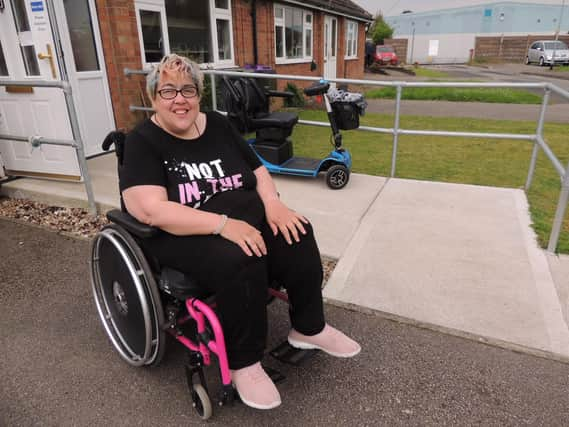 Natasha Gollop, 43, of Hussey Close, struggles to walk and spends much of her time in a wheelchair, but despite this she has set herself a target of walking a mile in May, two miles in June, three in July and four in August.
She hopes to raise £1,000 to add to her disability payments to get the £5,000 motor to add onto her ordinary wheelchair.
Natasha said: "I don't have a car and currently use a mobility scooter to get about, but they are not allowed on trains.
"I had a motor attachment before but it broke and I cannot go by train to Lincoln independently to visit my mum, who lives in a nursing home."
Natasha explained that whenever she travels anywhere for a day out, she will walk a few steps with the aid of her walker or a handrail and she hopes this will steadily add up to her goals.
She said: "It will be a challenge as the cerebral palsy makes it difficult for me to walk.
"I don't know of any disability grants I can apply for so I'm doing it myself."
You can donate to her fundraising page on the Justgiving website by simply typing in her name for the search.
Natasha added: "If anyone has any more suggestions of fundraising opportunities towards my goal I will be happy to take them up, along with any donations for raffle prizes."
To make donations or suggestions contact Natasha via her Justgiving page.