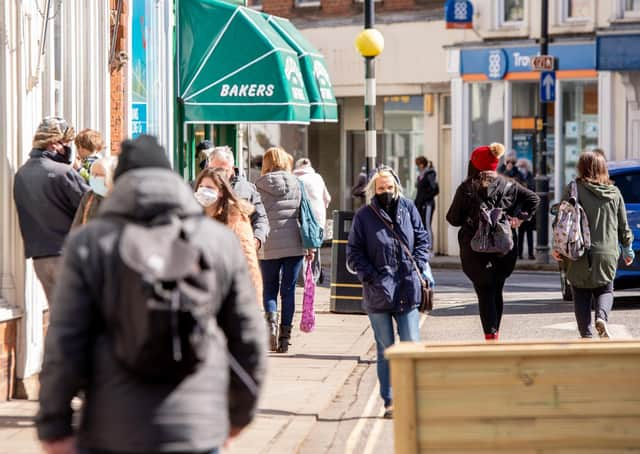 The easing of lockdown restrictions saw a host of Louth retailers throw open their doors for the first time in three months.
After weeks of waiting, it was possible to get a haircut (if you were prepared to queue), buy clothes off the peg and enjoy a drink and a meal at premises with outdoor facilities.
After the shock of early morning snow, the sun shone, the sky was blue and the town was much busier than it has been.
Danica Lawson, whose family owns Lucks of Louth, said it was fantastic to that the town was buzzing again.
She told the Leader: "We've been looking forward to this day for a long time and it's great to be able to see some familiar faces again – and some new ones'.
"The whole town is really buzzing. There's a lot more people about, there's a really good atmosphere and hopefully all this a sign that we look to the future a lot more positively. We certainly don't want another lockdown."
Ms Lawson said she and staff members had spent the last few weeks ordering new stock for what she hopes will be a bumper spring and summer season.
Meanwhile, Julie Staniforth, manager of the Age UK East Lindsey charity shop, was also optimistic about the future.
She explained: "It's been a very difficult time for everyone, and especially charities.
"We haven't had any income, but we've still managed to keeping helping people through lockdown.
"It's wonderful to actually open and the response has been really good.
"There were one or two people queuing when we opened and we've been very busy since.
"People have been bringing in donations and there's a really positive feeling around."
One of the charity outlet's customers – who did not want to be named – said being able to shop again had 'changed her life.'
She said: "The last year has been an nightmare and being stuck at home hasn't helped.
"I've lost a very close relative and my husband was recently diagnosed with cancer.
"Just being able to get out and about means so much. It's really given me a boost.
"I'm buying all kinds of things and I don't even know if I want or need them."
People were enjoying the sunshine at tables outside Jassies.
Many business owners who spoke to the Leader supported the Cornmarket project and residents and visitors certainly lapped up the atmosphere outdoors.
Lewis Phillips, joint manager of the Masons Arms, said the scheme had really taken off and they were already taking table bookings for next week.
Lindi Holbrook, of Louth, was one of the customers enjoying the sunshine and said: "It's really popular and is just what Louth needed."
Mark Jackson had queued 45 minutes to get his haircut for the first time in three months .
He said: "My girlfriend has been threatening to cut it for the last couple of weeks, but no way!"
It wasn't all positive as Terry Robinson, owner of Louth Travel, admitted while it was good to re-open, business was still very slow.
He said: "People are being very cautious and you can't blame them because no-one knows when or where they can go on holiday.
"What we need is clarity from this Government – and the sooner the better."