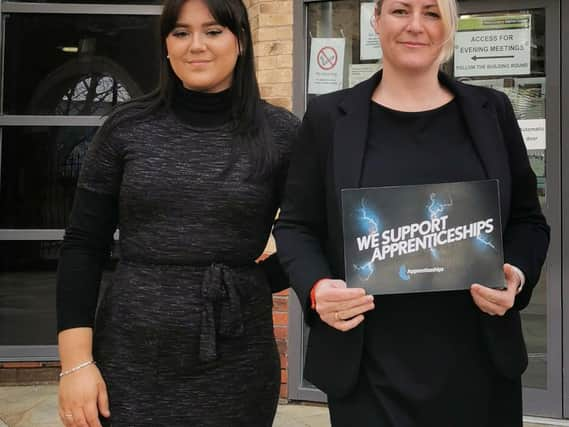 West Lindsey District Council is delighted to be supporting apprentices across a number of key areas of work from project management, technology and customer service and they are helping to transform the businesses.
The council has a history of successful apprenticeships, with a number of staff going on to full time roles with the council, many of whom are still with them today.
Currently, eight people are completing an apprenticeship qualification at the council.
Coun Angela White, Member Champion for Young People and Skills at the council, said: "I am really pleased that West Lindsey District Council is offering these opportunities to young people in our area. This is an excellent way of gaining qualifications as you work and acquire practical skills."
To celebrate and to shine a light on the work they do, we found out a little bit more about them and what they've been up to.
Holly Hansard joined the council in January 2018 to do a level 3 in Business Administration and has progressed to a level 4 in Project Management, securing a full-time role with the Council.
She said: "There's always ups and downs to everything, but overall choosing to complete an apprenticeship has been the best decision I've made for my career.
"I have found it a lot easier knowing that my team and the wider organisation are always happy to help if I need it."
Holly has said that she would definitely recommend an apprenticeship to anyone thinking of taking up an opportunity.
She added: "When I decided I wanted to pursue project management, I knew that an apprenticeship would be the best way to learn about the subject as well as complete hands on work.
"At the end of my apprenticeship, I will have obtained a qualification that is recognised worldwide to help my career in the future."
Abbie Beastall joined the council in November 2019 to do a Level 2 Customer Services apprenticeship. She will be progressing to a level 3 in Business Administration and will be working with other teams at the council over the next few months.
She said: "I have loved my apprenticeship - not only have I worked hard as part of a team, gaining workplace experience, but I have also achieved a qualification too. An apprenticeship is an easy way to achieve your academic goals whilst learning the ways of the workplace."
Declan File joined the council in 2020 during the start of the first National Lockdown due to the COVID-19 pandemic.
He is a Technology Apprentice and is working to complete a Level 2 in IT.
He said:"I started on the initial full lockdown day, last March. It took a little adjusting to work from home, however after a little while I got used to it."
Declan has worked closely with his manager Daniel Reason to find solutions to the council's new ways of working.
He said: "Dan has been giving me help and making sure I have enough work so that I am able to keep busy. He has also looked at areas where I can meet the criteria for my apprenticeship, even if it is not directly in the team's remit."
The Council's People and Organisational Development Manager, Emma Redwood,is a strong advocate of the programme and has welcomed many apprentices to the Council over the years.
She said: "Apprenticeships give candidates fantastic experience in the working world and show employers that they can 'hit the ground running'.
Hands-on training gives them a real chance to put their skills into practice and helps them to gain more confidence in a working environment.
"As an employer, we love taking on new people who are motivated to learn new skills and we can support and adapt their training according to the needs of the council. It also gives us a chance to expand and upskill our workforce."