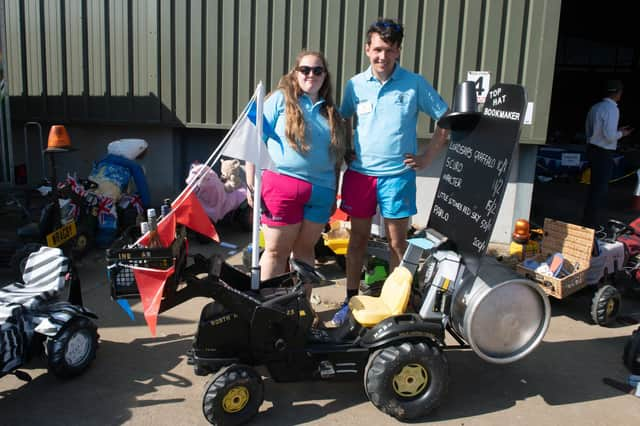 Young farmers gather for fun-filled county rally
It was fine weather and lots of fun as Leadenham farmer Andrew Ward hosted this year's county rally for Lincolnshire Young Farmers Clubs.
Glebe Farm was the venue for the annual rally as young people from across Lincolnshire converged on Leadenham on Saturday for all things agricultural – and more!
Clubs from across the county got to meet up, compete in challenges and see which club will be named the 2023 rally champions.
Harmston Young Farmers were crowned club of the year.
Ellie Bee of Lincolnshire Young Farms said it was a brilliant day with around 900 people attending the event.
"Lincolnshire YFC would like to say a huge thank you to Andrew Ward for hosting the event and for being such an amazing host. Also a huge thank you to Omex for sponsoring the event. We could not have done it without the help and support of local businesses and farmers like Andrew Ward and Omex as well as all who bought trade stands or let us borrow equipment for the event," Ellie said.
She also thanked rally chairman Charlie Featherstone, county chairman Harry Mason as well as strategic development officer Kate Knight and the rally committee.
Louth were crowned champions with Harmston in second place. There were also lots of trophies given out with Harmston winning seven of them as well as being crowned 'club of the year' the week before at the pre-rally challenges, where even more competitions had taken place.
Ellie said: "There is a lot of rivalry and competition between the 15 clubs in the county and it was the fourth year in a row that Louth have won."
On rally day members competed in tug of war, floral art, a dogs show, craft classes, pillow fights, assault courses, karaoke and more. On pre-rally day (the week before) members had also taken part in stock judging, cookery, farm safety skills, fence erecting and auctioneering.
Some clubs had also taken part in the final round of 'club of the year' and had given presentations to a panel of judges. Some clubs and members got through to the next round of their competitions, some of which will be held at shows such as the Lincolnshire show.
The East Midlands area round of Tug of War and stock judging will be held at the Lincolnshire Show as well as some of the exhibition craft classes. Tug of War will take part on the Thursday at Lincolnshire show, and will be in the YFC ring near the YFC tent.
The rally day was also raising money for the charity 'forage aid', which is a charity set up by rally host Andrew Ward and offers support to farmers in the form of emergency bedding and feed after they might have been hit by an extreme weather event or natural disaster.