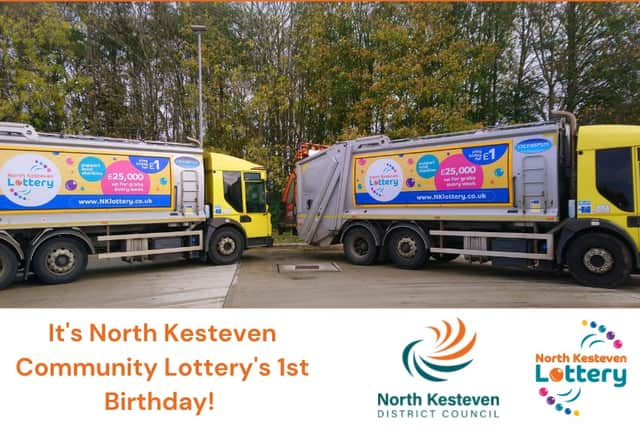 The lottery was set up by North Kesteven District Council and, to mark this milestone for the lottery, new NK Lottery adverts are going to be pasted onto the district council's bin lorries.
Since its launch, the North Kesteven Lottery has raised more than £30,000 in revenue for good causes across communities and more than £6,000 has been given away in prizes. So far more than 66 local groups have signed up as part of a fun and effective way to raise funds for their valued services in the community.
You can win weekly cash prizes up to the £25,000 jackpot for just £1 per ticket, of which 60p of the fee goes directly to the cause of your choice. With Christmas fast approaching, on Saturday December 17, one lucky supporter will win a fantastic £1,000 John Lewis eGift card.
Since its launch, Metheringham swimming pool have raised over £2,000 towards their community pool and the Secretary Karen Rymer said: "Our community has really got behind us since we signed up to the NK Community Lottery. The proceeds of which have enabled us to buy and install lights for the pool, which look fabulous and really add to the experience for swimmers.
"Our pool is run by the local community for the local community and our lottery ticket sales have really grown with the efforts from Olivia, one of our younger volunteers within the committee, who has worked hard to promote the pool through social media, and we could not be more grateful to her, thank you!"
Council Leader Coun Richard Wright said: "What is fantastic about the draw is that as well as giving you the chance to win £25,000 each week, the money that's raised goes to the good causes that do so much in our district. Your money is going into your district to help do better."
"It's literally a win-win, with players and good causes both benefitting. As a council, we want to do all we can to support efforts to help others in our district – you can see this in our annual Community Champion awards for example – and this is a truly tangible way to do that.
"We hope North Kesteven's residents will support this charitable endeavour and invite any groups that qualify to apply to register as a good cause."
Are you a local not-for-profit group looking to diversify your fundraising income in a fun and effective way? Or maybe you know of a PTA, sports club, or other charity that is looking for a sustainable way to raise funds? Good causes can sign up for free at any time – simply visit https://www.nklottery.co.uk/home/howitworks/northkesteven to register.