'Absolutely delighted' - Celebrations at Boston High School on A-level results day
The headteacher at Boston High School says he is 'absolutely delighted' with this year's A-level and CTEC results.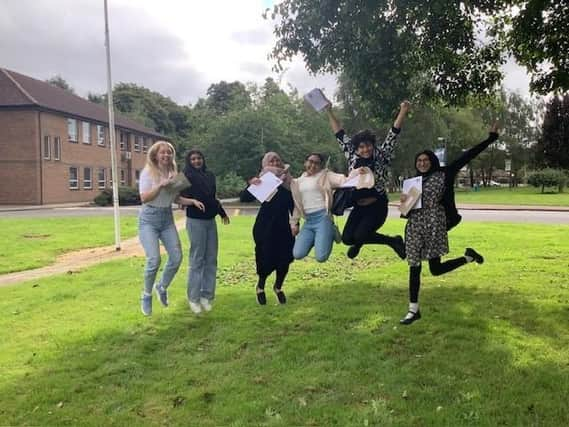 In line with Department for Education guidance, the school is comparing its 2023 examination data with its figures from 2019.
Through this approach, it finds a rise in the number of grades achieved at B or above – 131 from 107.
Also, it notes that 43.6 per cent of students achieved at least their target grades, compared to 38.3 per cent in 2019.
Headteacher Andrew Fulbrook said: "I am absolutely delighted with our A-level and CTEC results this year. Our results demonstrate the academic strengths, determination, and hard work of all our students at the end of two years. They have shown outstanding resilience and perseverance, skills that will prepare them well for their next steps. Equally importantly, our students continue to be superbly supported by our dedicated staff and Sixth Form Team – I congratulate all on these fantastic outcomes."
A spokesman noted the school was 'extremely proud' of its students' success in the following subjects, in which all achieved 70 per cent, and above, A*-C: health and social care, French, media studies, English literature, history, English language, business studies, Spanish and music.
"Our Extended Project Qualification continues to be an outstanding success with our high achieving students gaining 31.3 per cent A*grades, and have given them a valuable opportunity to research, review, present and produce a piece of academic writing of self-chosen topics," the spokesman added.
"We are extremely pleased to celebrate another successful year. Our students should be exceptionally proud of themselves, especially as these examinations are the first externally assessed examinations they have taken, and they deserve this success," they continued. "These highly successful school results do not exist in isolation, and we wish to thank and congratulate our highly professional and committed staff, our governors, parents/carers and, most importantly, our fantastic students."