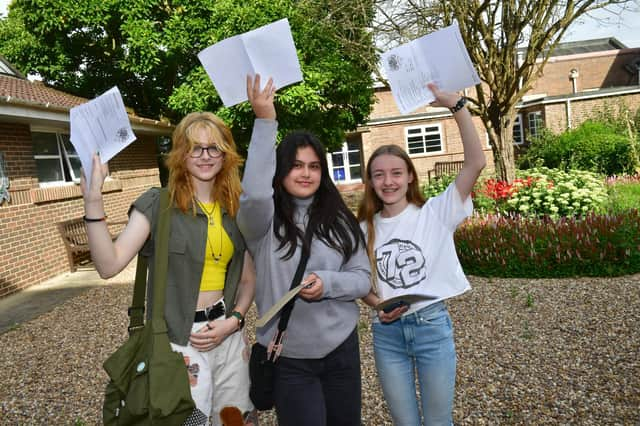 'Another set of successful GCSE results' at Boston High School
Pupils and staff at Boston High School are celebrating 'another set of succesful GCSE results', the school has reported.
Published 24th Aug 2023, 14:13 GMT
Headteacher Andrew Fulbrook said: "We are so pleased with the positive GCSE results achieved by our students, especially after four years of national disruption. Once again, the students and staff have worked extremely hard to uphold our incredibly high standards and grades. Most importantly, students can build on their success and progress, with confidence, into their post 16 studies and continue to develop as an individual. We should applaud the resilience, grit and hard work of our staff and students."
The school reported that that its English and maths results 'maintained pre-pandemic success', with 95 per cent of pupils achieving the 'Standard pass rate' and 70 per cent achieving the 'Strong pass rate'.
The top performing departments were: art, French, history, music, PE, Religious Studies, and Spanish. In these, at least a third of the grades achieved were at Grade 7 or above.
Some pupils achieved 'outstanding' GCSE results in their first language, in Italian, Polish, Russian and Urdu, the school also reported.
Some top-performing pupils achieved three or more Grade 9s, it added.
A number also 'significantly exceeded' their target grades in six or more of their subjects, the school added.
Mr Fulbrook said: "These results do not exist in isolation, and they are a product of the hard work and determination of our fantastic students, brilliant staff, supportive governors and parents/carers."
"At Boston High School we believe in embedding a values-based education that will stand students in good stead for their future," he added. "We are a school that encourages and develops a love of learning, so that students are equipped to build on their exam success and take on the challenges of their next steps as confident, respectful, resilient learners who can contribute to society and achieve the success they deserve."
"We congratulate all schools and students in the Boston area and wish them well in the future."