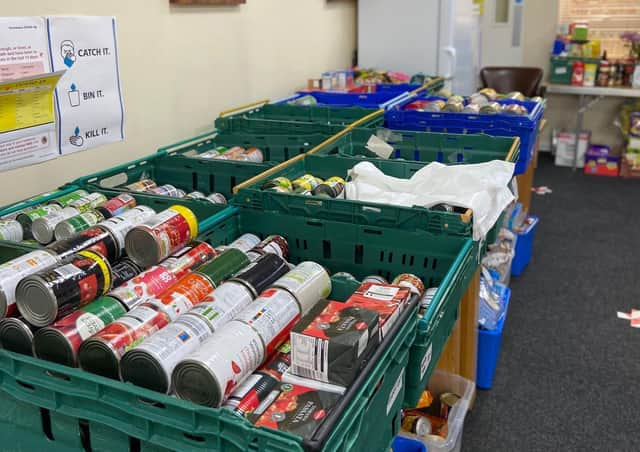 Tory MPs voted down a motion by Labour to extend the free school meals during school holidays until Easter 2021 in light of the ongoing pandemic.
The government argued that it has invested in increasing Universal Credit benefits and provided funding to councils to serve people's needs better.
But the outcry led to dozens of people donating goods and services to Sleaford's new life Community Larder as well as businesses doing their bit as well over the half term.
Tablez Cafe Bistro in Sleaford decided to run a "hanging meal" for children whose parents would struggle to feed them during the half term. This is an extension of the "hanging coffee" which the bistro ran for homeless and vulnerable people last winter and the free meals it provided to isolating vulnerable people during teh early days of the pandemic.
Families were invited to go in, take a ticket, take a seat, order a hot drink and a hot meal and drink for their child of their choice.
Owner Mesut Palabiyik said: "We decided to do it like this so the parent may be as discreet as they wish. No words and no judgement. We, together can make each other's lives as peaceful as possible."
As a result they received many people wanting to donate towards the "hanging meals" .
Mr Palabiyik said: "Any donations at the end of the half term which go over our use will be forwarded on to the food bank to continue supporting our community."
hot food wagon Food To Go also joined in the campaign, that was launched by Manchester United footballer Marcus Rashford. They announced: "Half term at Food to Go means only one thing - kids eat free."
The William Alvey School collected food donations from families and took them to the New Life Community Larder for families struggling to buy food in the Sleaford area.
Staff at Sleaford's McDonalds also donated food to the Community Larder.
Rod Munro of the Community Larder said in one day they issued over 350 meals in food provisions for children in the district.
He said: "The weekly food packs are issued discretely. No fanfare involved, no paperwork. Just generosity from New Life and the wider community."
During half term, a weekly pack of provisions was made available for every child that needed it. This was extended to additional children in preschool and nursery settings.
It was a simple pick up service from the New Life Church on Mareham Lane with people invited to just turn up.
Mr Munro said: "We understand and feel the frustrations of many families navigating changes in job circumstances and reduced income. It is not easy.
"We appreciate the time delay while applying for Universal Credit. We know it takes some time for the support to come through."
Those applying for Universal Credit or applied for the Free School Meals provision element could receive a weekly food pack for each child.
"For those who wish to support the New Life Community Larder, then you can support us with a current fundraising opportunity. Your donation can be matched funded through a 'Love Your Neighbour' project that we have joined. Simply put. Every £1 donated is matched funded by another £1."
The details are: Account Name: Sleaford New Life Community Impact; Sort code: 30-97-70; Account no: 29709360; Ref- Larder
Mr Munro added: "We are aware some children have been asked to isolate and require help when at home. The Community Larder will continue to support those children who need a little bit of direct support."
Lincolnshire County Council responded to calls for the provision of free school meals to low income families over the half term holiday saying it was already helping.
Coun Martin Hill, Leader of Lincolnshire County Council, said: "We have no intention of leaving vulnerable children or anyone else to go hungry over holiday periods.
"The government has made substantial additional financial support to low income families to further help them in these difficult times.
"LCC also received £835,000 from the government for additional support for vulnerable people which we have already allocated."
This included additional funding of almost £400,000 to the Lincolnshire Food Partnership to ensure new and emerging local food banks will have grants and support in place to help them to thrive. To find details of your local food bank go to www.lincolnfoodpartnership.org/
The council also gave a further £215,000 to the Community Lincs Programme run by the YMCA which supports Good Neighbour schemes and food kitchens for communities in Lincolnshire. You can find schemes in your area here: www.maphub.net/LincsGNS/lincs-gns
During the Covid 19 pandemic Coun Hill said they have also provided the Lincolnshire Resilience Forum with £217,000 to bulk purchase food stock to support our most vulnerable residents.
"As always we will respond to requests for support positively and if there are children in need we will of course act immediately to keep them safe. If people need help then they can contact us on 01522 782030 and we will direct you to further support."
Sleaford and North Hykeham MP Dr Caroline Johnson was among Lincolnshire's Tory MPs who voted against the motion in Parliament to extend free school meal provision to holidays.
She clarified her position in response to constituents' concerns about the vote.
Dr Johnson said: "I fully agree that children should not go hungry. No one from any political party wants that and, as an NHS paediatrician, I can assure you it is not something I would ever wish to see."
She explained: "The motion was an opposition day statement - a motion where the opposing party can debate the wording of their choice. However, whichever way a vote on it went if called, it would by nature have no actual effect.
"Free School Meals have been in place since 1906 and maintained by Governments of all political parties; I can assure you that they are in no way under threat.
"However, there are several different ways to deliver support for disadvantaged children outside of term time."
She said: "Some are in favour of extending the existing Free School Meals system, placing the responsibility on schools to provide food for children all year round. Whilst having children attend school does ensure that those who attend have eaten a nutritious meal, there are disadvantages too if used as a long term welfare measure, with questions to be asked about whether school is the correct place for such provision. Apart from the logistical and delivery issues with varying numbers of eligible students per school, there are questions about how many eligible children would take up such an offer. There is also a worrying potential for families to feel a stigma when their children are still attending school each lunchtime when their peers are not. Indeed, our local schools currently have systems in place to ensure that the source of a child's 'dinner money' is not detectable. I'm also concerned that, in a rural county like ours, it's a great deal more difficult and potentially more time consuming for many parents to take their children into school for one provided meal, than to feed them in a home setting. I also worry about the potential adverse effect on children from not eating together with their families."
Another solution she outlined is a voucher system, which was a method used over the summer holidays. "Although there are positives to the idea of helping to meet the needs of low income families with targeted vouchers, there are also a number of issues involved with this method of delivery as well. The nature of them means that parents often have to use them in larger supermarket chains, which removes the possibility for shopping around in smaller stores and town markets for possibly cheaper options which will go further. There have also been problems reported with some being used for items that are not going to ensure that children are being fed. Some families also report discomfort using vouchers."
Dr Johnson said the other option is to look to the general welfare system to provide the support needed to prevent child hunger. "The Government has decided the best way to support families is through the benefits system, including the recent uplift of over £1,000pa which has been put in place for recipients of Universal Credit. Families on low incomes, or those simply going through a difficult patch due to the the pandemic, should still have the agency to decide for themselves what to eat and I believe the role of the Government is to provide the resources needed to allow families to make their own choices.
"In order to ensure no family slips through the safety net, councils have been given money to support families (£823k for Lincolnshire) and advice can also be provided to ensure families who are finding things a struggle are accessing the support that they are entitled to receive."
She said this is in addition to other measures to support jobs and income such as the furlough scheme, the self-employed support scheme and various forms of business support.
"As a consultant in the field of paediatrics and a parent myself, child welfare is extremely important to me," she said. "No child should go hungry for any reason and I know that the Government is working to make sure that local authorities and organisations are being provided with the funding to target support where it's needed. The effectiveness of this is being constantly assessed and I know that, if there is evidence that this is not working, this Government will do everything possible to find the right solutions."