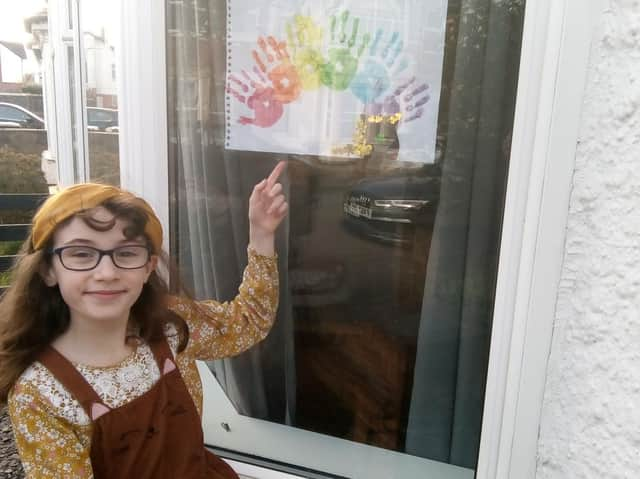 Pictures of rainbows have started springing up in windows after schools closed in response to the coronavirus outbreak.
Schools encouraged pupils to put up paintings to "spread hope" after a trend started online.
Schools across the UK shut on Friday to children of non-key workers.
Joanne Hazard of the Richmond School said: "We ask that they can put their rainbows in their front window to make the world a little brighter in these difficult times.
"They are very excited to be spreading some happiness to others."
Children at the Flourishing Friends group at the Skegness Eco Centre, which is also temporarily closed, are being provided with rainbow packs so they can paint pictures to not only put in windows but also send out to care homes.
Tracy Sherwood, who runs the group said: "I'm providing virtual story time and packs via email - the first one includes rainbow crafts, that are being displayed in windows to provide local children with a neighbourhood game of rainbow spotting as well as, hopefully, raising a smile.
"I am also working on putting together 100 free packs that can be picked up from the Hildreds Centre next week.
"Hopefully those at home with their children will find this useful as playing together is vital for children, especially at unsettling times.
"Having a grown-up give them some attention and quality time really helps with well-being.
"From my 20 years of working in education I know play is not frivolous, the thing you do after the important stuff. It is the important stuff! It builds brains and bonds."
The Richmond School reception class were also busy working on a message of support for key workers before the school closed, Joanne Hazard said: "It was to thank our frontline workers for looking after us all, we dressed up as people we look up to."
Sarah O'Dare, Year 5 teacher, has also expressed how proud she is of a community minded pupil. who has produced a poster with advice on how to stay safe.