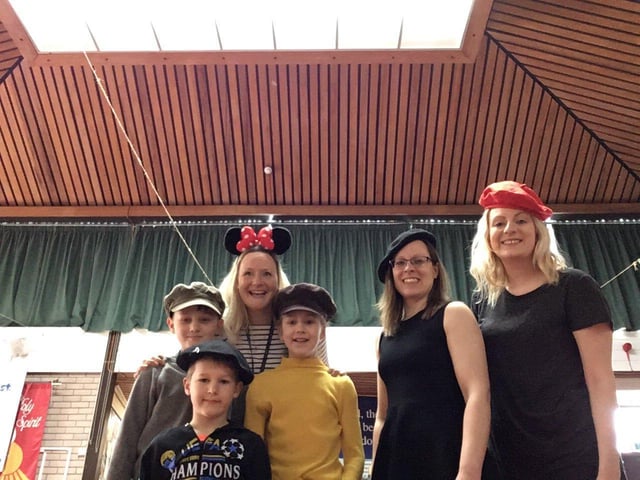 Staff and pupils at St Thomas' Primary in Boston, part of the Infinity family, have been doing their morning PE session with Joe Wicks along with much of the nation - this session saw them don crazy hats
Gavin Booth, chief executive of Infinity Academies, which has primary schools around Boston and in Spilsby, says schools want parents to be parents not teachers during the school closure period.
The Government took the decision to close schools to all but the children of workers critical to the effort to tackle the coronavirus on March 20.
The closure is in place until further notice, with many beleving it will be September before they return to normal opening.
Mr Booth says a structure and routine will help parents and children feeling anxious, but says the most important thing is parents relationship with their child.
"The last thing we need is anxious parents & children sitting at home churning through meaningless worksheets and ridiculous schedules. All it does is damage relationships, put pupils off learning & pressure on parents," he said. "Let's just enjoy being together and do things that engage us."
Suddenly having children at home full-time is a huge adjustment for parents as it is without the additional burden of parents feeling they have to provide a full-time education for their children, he added.
"It's important we take things slowly. Parents need to be parents first and concentrate on that relationship. They need to take the time to do something enjoyable with their children, play board games, take a walk and throw a ball around in the garden reinforcing that they are Mum and Dad not a substitute teacher.
"As well as this giving children time to use their imagination and entertain themselves is important. We need to get used to all being home together first before we can begin to support our children with their learning."
He said were were in unprecedented times with everyone feeling unsure of the future, which was bound to create anxiety.
"One of the best ways to mitigate this is to slowly introduce a structure and routine into our days. This supports our mental health, provides children with the structure that they are used to and supports parents with breaking up the days into manageable chunks. Producing a visual timetable helps everyone know the plan for the day. Lots of schools have produced resources to support parents at home and have put these onto their school websites. I suggest parents break up the day into sections and spend a little bit of time doing some of these activities interspersed with "play times" for children and a break for the adults as well as time for fun family activities like outdoor games, a walk or just some downtime with the TV.
"Make sure you are not labouring over activities for hours and hours these need to be short bursts so as to keep children's interest and to ensure we can maintain the same approach for the coming weeks. As a parent I would concentrate on teaching the activities I feel comfortable with and make sure I have read them through and understand them before sitting down with my child.
Also, if you are unsure as a parent, schools have created lots of ways to get in touch so use the expertise of school staff by dropping them a message or email if you have any questions."