Digby CofE Primary school has reported positive cases for the first time in the last seven days.
Andy Fox, consultant in public health at Lincolnshire County Council, said: "We've had 15 schools make initial contact in the past seven days because of a pupil or staff member testing positive for coronavirus. The current rate of incidence in school age children in Lincolnshire is 170 cases per 100,000 over seven days, which is much lower than the rate of 235 cases per 100,000 for all ages.
"All schools are taking action to limit the potential spread of the virus, with some pupils and staff self-isolating as a precaution where necessary. The majority of schools remain fully open, and those affected are working really well to limit both the risk of the virus spreading and the impact on the pupils' education."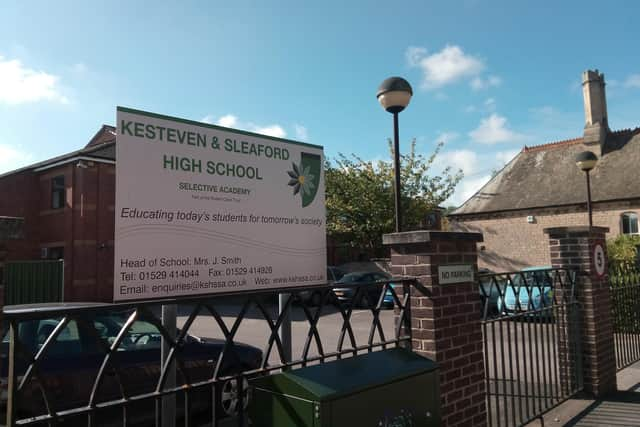 Carre's Grammar School and Kesteven and Sleaford High School have sent their entire Year 12 home to continue studying remotely until after the Christmas holidays after a spike in infections. As a result, the remaining Year 12 sixth formers based at St George's Academy will not attend any classes normally held at carre's or the High School.
St George's principal, Laranya Caslin said: "Our students are joining lessons at the two grammar schools remotely in the same way that the students based at those schools are joining those lessons. Our teachers are also providing remote learning for the grammar school students currently at home who have lessons at St George's Academy."
Head of Kesteven and Sleaford High School, Jo Smith told The Standard: "Based on the advice from Public Health England and the local Health Protection Team we are hoping to halt the transmission of cases in year 12 across the town whilst giving students the best online experience whichever school they are based at.
"The decision made regarding Year 12 was taken in consultation with all three heads in the town and factored in the number of students travelling across the sites from their base schools to access their courses."
Parents were also notified yesterday (Monday) that the High School had received news of two positive Covid cases in Year 13 students at Carre's, who were said to have last been in school on Friday.
Seventeen sixth form students who had been in close contact with the two infected pupils last Thursday and Friday have been asked to self-isolate as a precaution.
The remainder of Year 13 students were expected to continue to attend school as normal.