Former Sleaford student recalls racism while growing up in town
With the Black Lives Matter movement showing no signs of slowing down and Prime Minister Boris Johnson proposing a review of the subject, a former Sleaford student has spoken out about his experiences of racism growing up in Lincolnshire.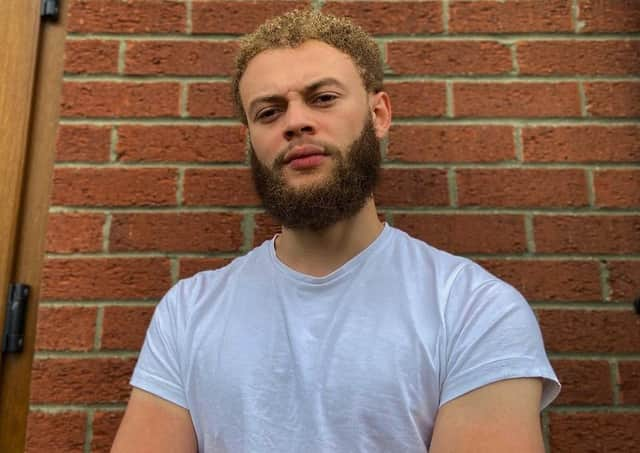 Speaking out about growing up with racism in Lincolnshire. Nathan Sealey. EMN-200615-184022001
With the Black Lives Matter movement showing no signs of slowing down and Prime Minister Boris Johnson proposing a review of the subject, a former Sleaford student has spoken out about his experiences of racism growing up in Lincolnshire.
Nathan Sealey, 22, is back living with family in Ewerby, but is still a student at the University of Bristol, a city that has hit the headlines when protestors pulled down a statue of philanthropist merchant and slave trader Edward Colston.
He said the statue has been a subject of contention for some time with people trying to get it removed democratically, likewise and students had appealed to have a university building's name changed for similar reasons but were thwarted when another petition was set up to save it.
Nathan said: "As a black person living in Bristol, a lot of its history is around the slave trade.
"When you see that glorified from money made from kidnapping thousands of black people and transporting them, dying, it is not a nice atmosphere.
"When black people are still being snuffed out on the streets for nothing except the colour of their skin, I am not surprised at the anger of answering chaos with chaos."
Born in Sidcup, his family moved to the Sleaford area when he started primary school.
He said: "I experienced racism on a daily basis and it was only when I left the county for university did I realise how bad our county was in comparison to other areas in the UK.
"I never felt like I had a voice to speak about what was happening nor did I have any other black people around me to turn to and discuss my experiences.
"The lives and views of the black community within this county needs to be heard before real change can be made and we can feel safe.
"People can no longer sit in their ignorance and say 'racism isn't a local issue'.
"It doesn't have to be a black person pinned on the ground by the police.
"I have had incidents where I have had racist things shouted at me by strangers in the market place as they felt they would not be held accountable for the severity of their actions."
Nathan recalls being the victim of racist insults at Carre's Grammar School by fellow pupils, but when he challenged them they would become angry and argued they were not being racist, just trying to wind him up.
Nathan agrees that unlike the overt actions of elements in the US, racism can be much more subtle in the UK, meaning it is harder to judge what people are thinking.
Nathan is of mixed parentage and was also born with albinism, making his skin much paler. This would lead to ignorant accusations of him not really being of black heritage.
He recalls periods of hearing the n***** word every day and constant comments about his hair or "You can't be black, I can run faster than you, and I can play basketball better than you". "You don't eat lots of fried chicken".
He would receive prank calls, constant comments and slurs about his black father, he was likened to a gorilla in a biology class.
"A friend of my brother's would make monkey noises and throw banana flavoured sweets at him and he could not get them to understand what they were doing was wrong."
He said his younger sister has sufered a lot from "racial microaggressions" towards her, with curious people grabbing her hair to feel it and comment on it, which can become wearing over time, to the extent she has opted to travel to Nottingham College every day as she could not face doing her sixth form years in Sleaford schools.
He said: "It was only when I told people from other parts of the country while at university and they sat there aghast. If this had happened in London I would have people to turn to, but I didn't have another black friend or black teacher to take it up with or call it out. I want people to be comfortable to reach out to others and not feel alone in the area.
"I am passionate about this. I've lived it. This is an opportunity to create a dialogue in our area, educate people on problems people in their local areas are facing and create social change.
"There are differences and it is about celebrating that," he said.
"Telling my story, I want others to come forward and feel that they can."
Despite this, he cannot see himself staying in Lincolnshire to help find a solution, as he misses the support network of bigger black populations he has found in other cities, even down to chatting about what products to use with his hair.
He understood that many people can find it hard to talk about race and for white people it may be a fear of saying the wrong thing. It is about learning and adapting, not pointing fingers.
Nathan admits if he had spoken to a teacher he believes they would have done their utmost to create change, but felt it was a wider issue in society.
"The school did not go out of its way to fail me," he said. His schools talked about the slave trade in history, but failed to address more recent issues and draw upon black role models. He saw it as time to glorify black lives and achievements equally.
He urged anyone wanting to learn more to go online and research the issues, understand the black influencers and celebrities and empathise what they have been through.
"You don't have to be a horrible person to hold racist views or say racist things. You have genuinely not thought about it and said it for so long without realising it was offensive. People just need to take a look at themselves," he said.
He said schools need to integrate that thinking into their curriculum and increase the scope in history teaching.
"In Lincolnshire you will come across one or two black people and so there are less people who would challenge racist comments," he said.
"There were other black people at my school. Some chose not to fight it, so it became normal. People share their views behind closed doors and that doesn't offer much room for change and growth.
"No black person should feel the obligation to have to challenge every person or group, it becomes stressful. But if one white person goes away and researches online or in books and challenges what they are thinking and then shares that learning with someone they know, that person is more likely to listen."
He hoped that protestors were keeping safe against Covid-19 but saw it as necessary: "This pandemic is one of the biggest threats to all life, but racism continues to be a massive threat to black lives.
"This is not the first time a black person has died or the first time everyone has said enough is enough, but this is the biggest movement I have seen and a lot of powerful figures are paying attention, including companies looking at the way they operate.
"It is not going to be instant but cannot be ignored any more," Nathan concluded.