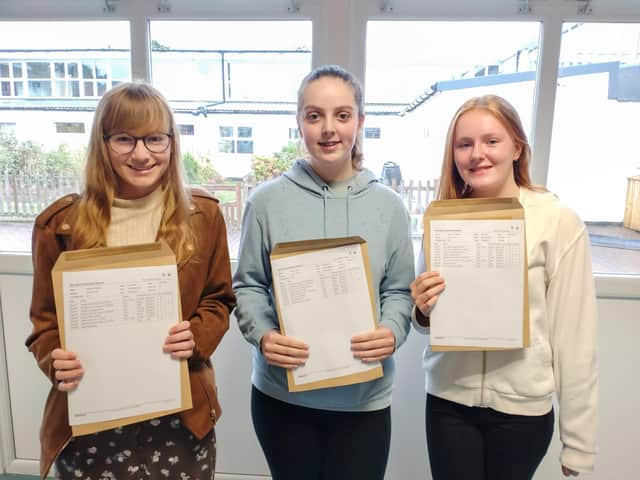 Students from Barnes Wallis Academy, part of the David Ross Education Trust, sat their exams in May and June, returning to the exam hall for the first time since summer 2019, as GCSE results have been decided by teacher assessment for the past two years.
Recognising the support that this year 11 students would need due to the disruption caused by the pandemic, the school provided extensive support, including intensive revision sessions, Saturday school and individual support where required.
Students secured some amazing results, including Callum Richardson who achieved three grade 9s, three grade 8s a grade 7 and a grade 6.
Hattie Tacey achieved a grade 9, two grade 8s, five grade 7s and a distinction, while Chloe Dobbs got four grade 9s, one grade 7, three grade 6s and a distinction*
Oliver Remic scored one grade 9, three grade 8s, two grade 7s, a grade 6, two distinctions and a merit, and Chase Field acheived two grade 9s, three grade 7s, one grade 6 and one merit.
James Scarrott, Executive Principal of Barnes Wallis Academy, said: "Yet again Barnes Wallis Academy Students have done themselves proud. Despite all the challenges they have faced over recent years, they have achieved an incredible set of results. The number of students gaining top grades has increased and the hard work that the students and their teachers have put in over the years, with the support of parents has really paid off. I would like to thank the staff at the Academy for their hard work and unfaltering determination for our students to achieve to the best of their ability. Well done to our year 11 students on a phenomenal set of results"
Stuart Burns, Chief Executive Officer at the David Ross Education Trust, said: "Congratulations to all our students and staff. Your hard work has really paid off.
"These results have been achieved despite all the significant challenges caused by the pandemic, which makes them all the more remarkable.
"Callum, Hattie, Chloe, Oliver and Chase have performed particularly well and I wish all our students the very best for the future."
Schools Minister Will Quince said: "I know students across Lincolnshire – much like the rest of the country - have experienced disruption over the past two years, and they should all be immensely proud of what they have achieved.
"Completing GCSEs and vocational qualifications is no mean feat and the support students have been given by school leaders and teachers is invaluable.
"I hope each and every young person at Barnes Wallis Academy who received their results today is now looking forward to taking their next step, whether that's A levels, T Levels or an apprenticeship – but for now, I hope they are celebrating their achievements and feel very proud of their success."
We will provide more GCSE coverage from across the Horncastle area as we have it.