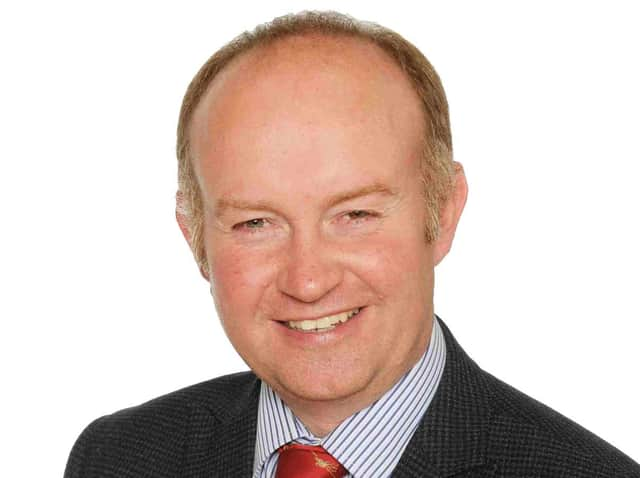 Head John McHenry
"Their industry and commitment, along with the excellent teaching and support provided by staff and parents, have ensured a record proportion of 7 to 9 grades," said John McHenry.
"After the recent turbulence and uncertainty which has caused such anxiety for everyone, especially students themselves, it is wonderful to be able to recognise and celebrate so much success.
"Over the last five years it has been a privilege to work with this unique cohort and we are all incredibly proud of their achievements.
"Every student has been an asset to the school and we wish them every success in their future academic or other careers."
He said there had as always been some very impressive results, including students who achieved 7 to 9 grades in eight or more of their subjects. These include Neil AgrawalEsteve, Siddarth Anand, Billy Berry, Joe Brabben, Kieran Brown, Jack Bruster, Alexander Burt, Joshua Coe, Elliott Coldwell, Eli Coonan, Max Doherty, Ethan Gomes, Jack Hanson, Christopher Jackson, Mathew Joseph, Thomas McMeechan, Maaz Murtaza, Kishore Murugesh, Kacper Ostrowski, Edward Parson, Aman Parvez, Aurimas Pranskevicius, Cameron Raitt, Alwin Saji, Aaron Thomas, Koen Torincsi-Groves and Bekzod Zarribaev.
He said Siddarth Anand and Kishore Murugesh were awarded the top '9' grade in every one of their subjects, describing it as a "a truly superb feat!"
"Congratulations to every student receiving grades today! Well done on your amazing achievements," Mr McHenry added.
He also gave an upgrade on A-level grades after the Government backtracked on its controversial algorithm which was used to allocate grades last week, and reverted to teacher assessment grades.
As a result of grades being amended, the school could now confirm 35 students at achieved at least three A*-B grades.
These include Evren Akyuz, Erika Bandaleviciute, Tomasz Cendrowski, Bethany Coldwell, Ryan Corrado, Will Craven, Emmie Doughty, Millie Goy, Ryan Halle, Harry Hopkins, Nitin Joachim, Jade Kemp, Emilia Kicinger, Luna Lattimore, Matthew Leachman, Yitong Li, Megan Lote, Mateusz Luc, Ben Mepham, Pierce Murray, Kirils Mustermans, Sam Olamijulo, William Ostler, James Pauly, William Pettitt, Will Richardson, Finley Roberts, Eimantas Rucinskas, Beenish Sanjrani, Jose Sraraiva Vaz, Nikola Skrzypczynska, Annija Stoka, Luke Waddington, Louis Whitlam and Zoe Worthington.
"To achieve such high grades consistently across a range of subjects is a testament to the hard work and constant endeavours of our students and their teachers," Mr McHenry said.
Will Craven and Zoe Worthington achieved three A* grades. Harry Hopkins was awarded four A* grades and has been successful in gaining a place at Cambridge University to study Economics.
"We wish all of our Y13 students every success for the future," said Mr McHenry.