In Pictures: College celebrates 'significant milestone' at graduation of 132 higher education students
The celebration saw a procession of 84 graduates through the town.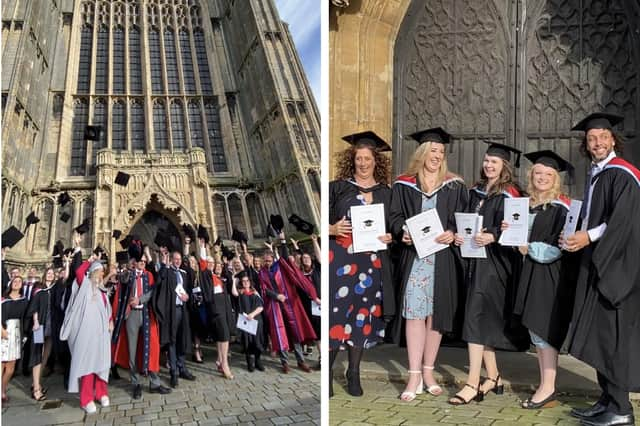 Boston College proudly hosted its second Higher Education graduation ceremony on Thursday at the historic Stump – marking was it called "another significant milestone in the institution's history".
This occasion celebrated the achievements of 132 Higher Education learners, with over 84 graduates present to receive their Certificate of Achievement to the applause of their peers, family, friends, and lecturers.
A college spokesperson said: "As an academic partner with University of Derby, Boston College provides a range of excellent, high-quality courses up to Degree and PGCE level locally.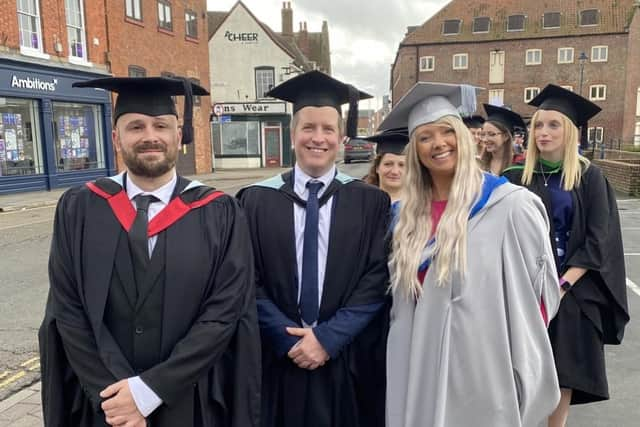 "The qualifications honoured represented a diverse range, including Higher National Diplomas, Foundation Degrees, Degrees, and Postgraduate Certificates in course areas such as Education Studies, Business Management, Creative Arts, Sport, Fitness and Wellbeing, Children and Young People, Engineering and more."
The ceremony began with a procession from the college's Sam Newsom Centre, led by Boston College's Deputy Principal, Heather Marks and Assistant Principal, Tom Hughes.
Claire Foster, Boston College's Principal and CEO, welcomed everyone and emphasised the significance of the day, stating: "Our college vision is to be 'Brilliant Today, Better Tomorrow,' and you, our graduates, are the embodiment of hope and aspiration for better lives and brighter futures. Today, we celebrate not just an achievement but a testament to your potential."
The college's Chair of Corporation, David Earnshaw, delivered an inspiring speech, communicating his journey from graduating with an Engineering Degree from Bristol University in 1987 to now being CEO of Parkinson Harness Technology, giving advice to graduates on the importance of overcoming hurdles, continuing to learn from experiences, their surroundings, and maintaining a determined mindset on the way to success.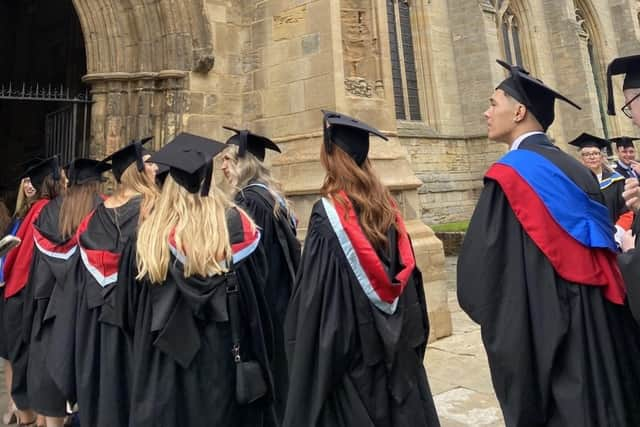 Graduate Lily-May Clayton shared her inspirational five-year journey at the college with the audience. Since 2018, Lily-May has studied a BTEC Extended Diploma, and has then gone onto completing a HNC, HND, and now a bachelor's degree, all in Graphic Design. Reflecting on her experience and development, she said: "I have to draw attention to the unwavering support of my tutors without who, my degree and higher education learning would have proved challenging.". She added: "Wherever you take your future, let it take you somewhere.".
The spokesperson continued: "Amongst a backdrop of an impressive performance by talented Boston College Level 3 Music Learner Kenya Allen-Burgess, each graduate was called on stage individually to receive their certificate from esteemed guests, including Neil Fowler, Associate Provost for Learning and Teaching at University of Derby and Claire Foster.
"Following the ceremony, the graduates, along with their families, friends, and lecturers, enjoyed a celebratory moment within the picturesque grounds of St Botolph's Church, capturing memories and toasting to their accomplishments.
"As we extend our heartfelt congratulations to the graduates, we wish them the very best in their future endeavours. If their journey has inspired you, explore our University Level courses and start your own transformative educational experience at Boston College."