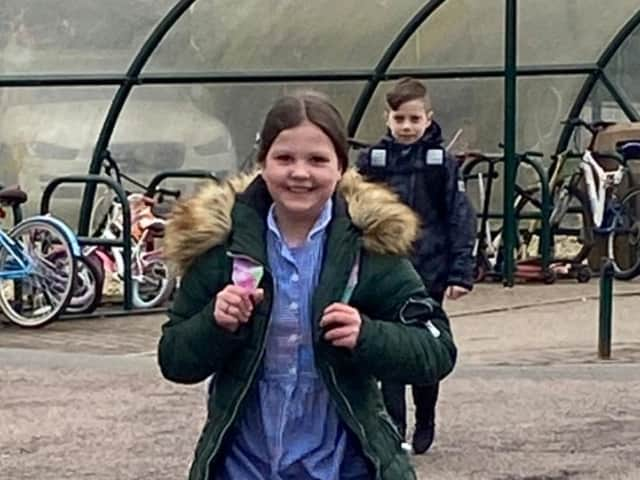 For Gavin Booth, chief executive of the Infinity Academies Trust, which has a number of schools in the Boston district, one particular moment stood out.
A five-year-old girl rushed out of classroom and threw her arms around him, saying "I've really missed you".
After the many challenges schools have faced over the last 12 months, Gavin says that is his abiding memory of the schools return yesterday, saying: "It absolutely made my day, week and year already!!"
Most primary schools have now opened their classrooms to all pupils once more after two months of online teaching for the majority of pupils as only vulnerable and key workers' children were physically in school.
Secondary school pupils will be returning more gradually over the next week or so, to allow the arrangements to be put in for the lateral flow tests pupils there will be asked to have twice a week.
Gavin says the most important thing now is to look forward and help children reconnect and rediscover what schools have to offer.
He said while it might seem to parents and children that the disruption had been significant, it was far from insurmountable.
"There are some concerns around the negative language being used in the media about "lost years", "catch-up" or "being behind," he said.
"We want children to have the opportunity to 'reconnect' with each other, their teacher and their routines and to 'rediscover' their talents, their love of learning and the fact that they are still part of a supportive school and Trust family.
"The amount of time that these children have missed feels significant but if you put it into the context of their whole 4-18 education it is not insurmountable or a barrier to their long term success. Our team is eager to get back to doing what we do best!
He said his team was very excited to have all pupils back in the classroom, and not having to split their role between in-class and remote online teaching.
The trust schools, which include Gipsey Bridge Academy, St Thomas' CE Primary Academy, Wyberton Primary Academy, and St Nicholas CE Primary Academy, had on average of a third of their children in school during Lockdown 3, with the figure rising throughout the two months.
That compares to a county-wide average of around 25%, according to figures given last month.
Gavin said the third lockdown had provided new challenges due to having combine online and physical teaching – challenges his staff had risen to.
"The partial opening has been a significant challenge with staff having to invent a completely new way of working overnight," he said.
"We have had to re-think every aspect of our job including how we deliver content, safeguard our children, communicate with parents and ensure the key annual events are delivered for the benefit of all children.
"We're very proud of the offer that has been in-place during lockdown and the way it has been improved and developed each time either a 'bubble' has closed or we have faced a national lockdown. The teaching teams have been incredibly creative!
"The main challenge in Lockdown 3 has been the expectation to match the remote offer as closely as possible with the school curriculum. This has involved staff providing even more pre-recorded videos, lesson resources, live tutorials, follow-up phone calls and some paper-based tasks for those at home whilst simultaneously providing face-to face teaching for the children of key workers and vulnerable children.
"We have worked hard to ensure we have been open to key worker/vulnerable children all day, five days a week which has meant that we have had to adjust timetables etc to provide non-contact time for staff to complete their planning but also to make phone calls to children and have their online tutorials."
He said the challenges to staff had been huge, with staff very conscious of the difficulties faced by families, the expectations from the Department of Education for the quality of remote learning, continuing to measure the impact of work, and the fact that Ofsted have continued to inspect schools, including on remote provision.
"The staff across Infinity Academies Trust have been remarkable and have worked tirelessly to provide the best provision we can. We have learned from each closure and worked to make each week's offer better than the previous one," said Gavin.
"Staff are delighted that children are now able to come back into school, to have their class together again and to be able to focus on supporting children all under one roof. I think our team have gone above and beyond in their contact with families and children. "We have spoken to most children every single week, provided food boxes were required, conducted home visits, invited children into school when it was clear they couldn't manage at home and ensured where parents were having difficulty with technology we provided a solution.
"The team have pulled together, shared ideas across the seven schools to make the job more manageable and to continue to improve all that we do."
The trust has also been acutely aware of how challenging a time it has been for parents, with every one of them facing different circumstances and challenges.
They have included; juggling work with home learning, job losses and financial difficulties, having issues with access to technology, being ill themselves or having ill family members or simply not been able to get their children online, he said. "We have tried to have open dialogue with our families and to encourage them to make us aware of their particular needs.
"To mitigate some of these problems we have; used pre-recorded lessons to allow parents to flex home learning around their work or the needs of other children in the house, signposted families to financial support, food banks and counselling, supported parents with knowing how to get tested and where to go if they have concerns, providing laptops, tablets and SIM cards and provided paper-based learning activities where they've been needed."
Primary schools were operating in a similar way to during the first return to class for the first term of the school year which started in September.
The key change though was the regular testing of staff, and the opportunity for parents and families to test themselves.
"We continue to operate in class or year group "bubbles" and maintain all the social distancing and hygiene measures we had in place before Christmas. We are all very aware that although the return to school is hugely positive there is still a requirement to be vigilant around the virus."
Asked about how the Government had handled the crisis, Gavin said it had faced a hugely challenging situation to manage schooling, and had undoubtedly learned from each lockdown.
"In Lockdown 3, the guidance to schools has definitely been clearer and provided us with a much more manageable timescales in which to prepare for the return of pupils," he said.
"I don't think they've got it all right, all of the time but school leaders have stepped in all the way along and made it work for children and families to the best of their abilities because ultimately that's who we're here for!"
He recognised that parents and children were facing an uncertain time and would undoubtedly have their own concerns and worries about the return to school and sought to reassure them.
"It's ok to be anxious! We all feel exactly the same- but children are incredibly resilient and will very quickly drop back into the routine of school and being in the classroom," he said.
"If parents or children are particular concerned it's important they speak with their school so that actions can be taken to support the return effectively.
"Schools have been thinking a lot about how best to support children as they transition back into full-time schooling and recognise that there will be a wide-range of emotions at play."