Lincolnshire grammar schools share best teaching techniques at conference
Staff from six grammar schools across Lincolnshire have attended a ground-breaking conference designed to enhance teaching techniques.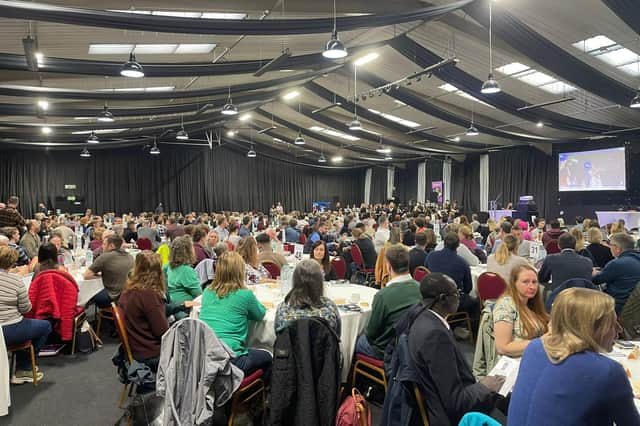 The conference is the culmination of a unique collaboration between grammar schools in Sleaford, Spalding and Boston.
For months staff and teachers at the schools have been working together to share good practice. It is now hoped this pioneering partnership will develop further with teaching resources, lesson plans and innovation shared across all six grammar schools.
Last week 360 staff from Carre's Grammar School, Kesteven and Sleaford High School, Boston Grammar School, Boston High School, Spalding Grammar School and Spalding High School attended the event called Developing Together. The keynote speech was delivered by Tom Sherrington, an experienced former headteacher and leading educational consultant, who is author of the best-selling book The Learning Rainforest - named by BookAuthority as 'one of the best teaching books of all time'.
The lineup of speakers also included Charlotte Woolley, author of The Lost Girls, who shared her insights into promoting girls' education, and Mark Roberts, author of Boys Don't Try, who addressed the challenges faced by boys in education. Martin Griffin, co-author of the Mindset series, addressed the delegates at Springfields Events and Conference Centre on raising levels of proactive study at A-Level.
The conference will also be repeated next year. Executive Headteacher of the Robert Carre Trust at Carre's Grammar School, Nick Law, said: "I am delighted that Carre's and Kesteven and Sleaford High School are playing a crucial role in this ground-breaking collaboration.
"The conference was a unique opportunity to learn and be inspired by experts from across the UK and will prove to be a huge benefit to the school.
"But where this partnership really makes the difference is in the many small ways that our staff are learning from each other, sharing experiences and ideas and making a very real difference to lessons every single day.
"The real benefits here are for the students – who get the advantages of the best educational practices from across six of the best schools in the region."
The Headteacher at Boston High School, Andrew Fulbrook, said: "It is a privilege for our school and our team to be involved in such a fantastic collaboration with our friends and professional colleagues across the schools. This venture is about recognising the crucial role that our teachers play in educating, nurturing, supporting and caring for the young people in our charge.
"The conference was a first for Lincolnshire, and it's success means it will be now an annual event. As a group we are determined to ensure we continue to develop as educationists, forge strong links and share best practice and to make a collaborative commitment to shared professional development.
"Above all else, I know that we all strive to do all that we can, in our own schools and beyond, to improve the outcomes and opportunities for our fantastic students in Lincolnshire."
Headteacher of Boston Grammar School, John McHenry, said: "The conference was an outstanding success and is the latest initiative to demonstrate the effectiveness of an exciting partnership involving six of the region's most innovative schools.
"Teachers and support staff were inspired by superb presentations from some of the UK's most prominent education experts. The conference provided opportunities for colleagues to share ideas and good practice, as well as to further enhance working relationships across the schools.
"The main beneficiaries will be our brilliant students. We strive to deliver the very best experience and provision for all of them. Development opportunities for staff are a crucial part of making this possible. Boston Grammar School is proud to be part of a family of schools, determined to work together, for the benefit of all."