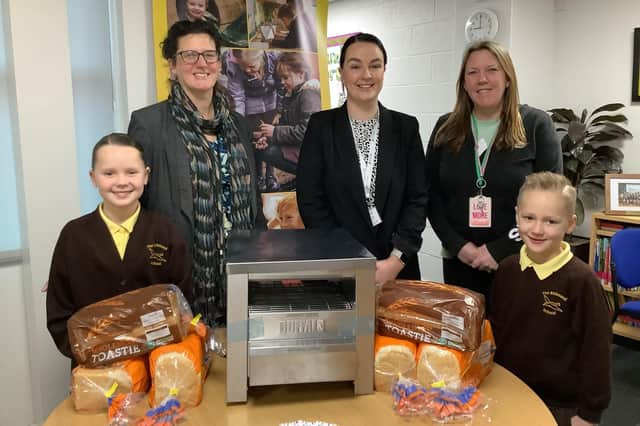 The Richmond School has been providing 420 pupils with breakfast bagels for several years – in addition to the morning breakfast club.
However, its 'Magic Breakfast' scheme had come to an end and it was feared they would no longer be able to do it until Micronclean stepped in to help.
The company has presented the school with an industrial toaster and £200 of Tesco supermarket vouchers to fund the breakfasts.
Magic Breakfasts have been about more than making sure families struggling with the rising cost of living don't miss out on an important meal of the day.
"Pupils are often in a rush in the morning and skip breakfast," said Joanne Hazard, of the Richmond School.
"At the Richmond School, we have been extremely fortunate for a number of years, due to Magic Breakfast providing breakfast bagels daily for our 420 pupils.
"Magic Breakfast are a charity and their aim is to end hunger, as a barrier to education in the UK.
"Unfortunately, good things cannot last forever and our provision has sadly ended."The benefits of this provision can't be measured due to the impact on young peoples lives that a positive social and soft start to the day creates.
"It is a fact, that children who eat breakfast have improved concentration, energy, alertness, social skills, health and educational attainment.
"We would like to thank Micronclean and welcome them as part of our Richmond family.
"We are learning today, for a better tomorrow and Micronclean, has become part of this process."
A spokesperson for Micronclean said: "Micronclean has been owned and managed by the Fry family since 1928 with our current chairman, Simon Fry, being the current family member and 3rd generation to oversee the business.
"With over 100 years of deep-rooted history in the local area, Micronclean are always looking for ways to help the community. When a parent from The Richmond School in Skegness approached us and explained the situation the school was facing regarding its breakfast club, Micronclean were more than happy to help.
"Stewardship, Knowledge, Innovation and Excellence are the core attributes at Micronlcean, with a dedicated SKIEs Council who manage a charity fund allowing us to support people like The Richmond School."