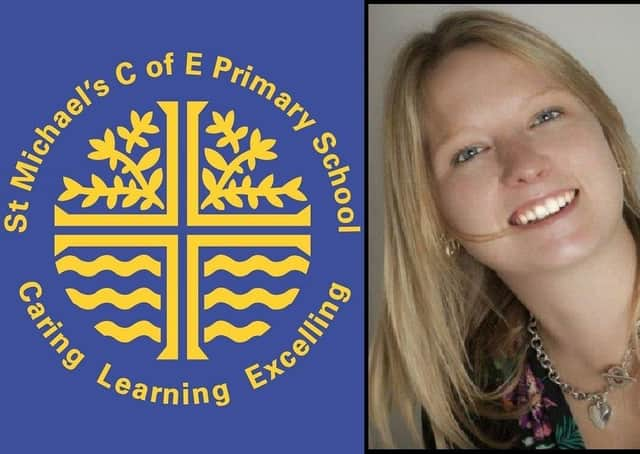 Sarah Addison, who is from Louth, begins her new job this week as the primary school re-opens for the beginning of the new academic year.
Miss Addison, 33, told the Leader: "My vision for the school is, at its most fundamental level, to support and nurture the development of happy, 
well-rounded children who feel safe and cared for at school and who enjoy their education, showing a love for learning.
"Holistic education, balanced with academic excellence and extra-curricular opportunities encourages a love for learning and allows for children to have the confidence to discover their passions from an early stage in life.
"I believe that in order to set the trajectory for a school to continue to move forwards, that a vision must be shared by all. I am passionate about developing strong partnerships with all stakeholders and I am keen to work with the staff, children, parents, church and wider community as the head teacher at St Michael's CE Primary School."
Miss Addison attended Kidgate Primary and King Edward VI Grammar School as a child, before heading to university where she completed a degree in music alongside her primary education training.
She explained: "I began my journey as a newly qualified teacher at St Helena's CE Primary School where I worked alongside one of the most inspirational school leaders I have met, Sue Belton.
"After six years there, I was seconded to Halton Holgate Church of England Primary School where I became the head teacher for 18 months.
"Seeking a job closer to home, I applied for the post of head teacher at Tetney Primary School and was appointed to this post in 2017.
"Although the decision to leave Tetney Primary School was a difficult decision to make, I was delighted when offered the role [at St Michael's] and I am excited for this next chapter in my leadership journey.
"My grandfather, Ralph Addison, attended St Michael's in the 1940s, and always spoke very fondly of his time there.
"It is with a great sense of pride that I will take over from Mr Fox following his retirement as long-standing head teacher.
"Over the summer term, Mr Fox welcomed me to the school with open arms, allowing for me to familiarise myself with the school, staff team, and governors before beginning in September and I am very thankful for the time he gave me. I wish Mr Fox and his wife a happy retirement and hope that he will come back and visit in the future."
Reflecting on the last three years, Miss Addison continued: "I am incredibly proud of the work undertaken by the Tetney Primary School team throughout my time as head teacher there.
"Together, we took the school on its journey from 'requiring improvement' to 'good', and have since succeeded in growing numbers on roll, securing the future of the school.
"I will really miss the dedicated team, families and children, many of whom I did not have the opportunity to say goodbye to properly due to the partial closure 
of schools when I left.
"The Tetney community will always have a piece of my heart and I hope to be able to work with the school in the future through our partnerships with the Kyra Teaching School Alliance."
Outside work, Miss Addison has played the trumpet since she was a child, and joined the Bluestones Swing Band in 2005.
She added: "Bluestones band play for all sorts of occasions: weddings, balls, birthdays, charity fundraising events, and RAF events.
"Hopefully, in the future, we can bring the band to St Michael's to entertain the children and their families."