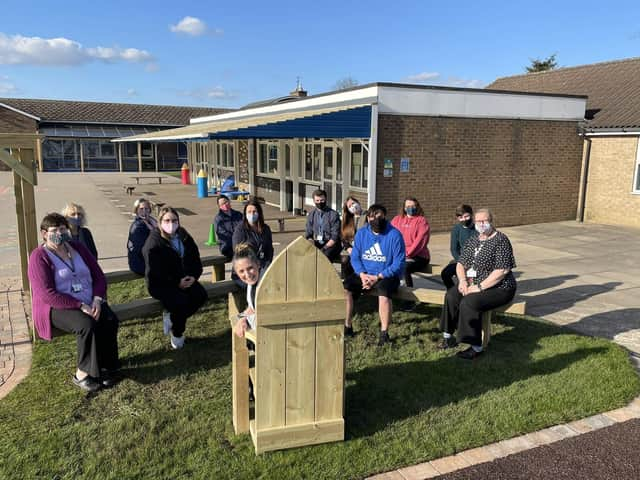 Staff and pupils at St Nicholas CofE have been left absolutely delighted by the work the company Newby Leisure has done to create the new areas.
Headteacher Fiona Booth says the work that has been done is 'amazing', adding that Newby Leisure did an incredible job.
The school lost some of its outdoor space due to Lincolnshire County Council developing a new special school on waste land alongside it.
Because of that, the council wanted to make sure the school got something in return, and the project with Newby was the culmination of that.
Fiona said: "We worked really hard with the assistant head for plans that would benefit everybody, with areas every child could use.
"We now have an enchanted woodland area which is the first thing you see when you arrive, a KS1 climbing frame made from fallen trees, a story-tellers' chair, and then a really big development of the KS2 playground, which includes the tree house and gym bars.
"We talk all of the time at school about the phrase let your light shine. This is a real opportunity for children at this school and across the truest to let their light shine, whether it is imaginary play, storytelling, becoming explorers. Really immersive outdoor opportunities."
Fiona said the work Newby had done was incredibly, and they had become part of the school family.
"Newby Leisure are awesome. When Neil Newby visited us before the build, he really took into consideration our community and getting to know the children, so he could really understand what it was that they didn't have and what they needed.
"He got them involved, and now they feel they have built their new area."
The whole experience had been transformational, and she said school staff had been using the teamwork the Newby team showed as part of their own professional development.
She said the children and staff sang them off on their final day.
"This is a genuine good news story," Fiona added. "It has properly made a difference to the life of our school and our community. It's really amazing."