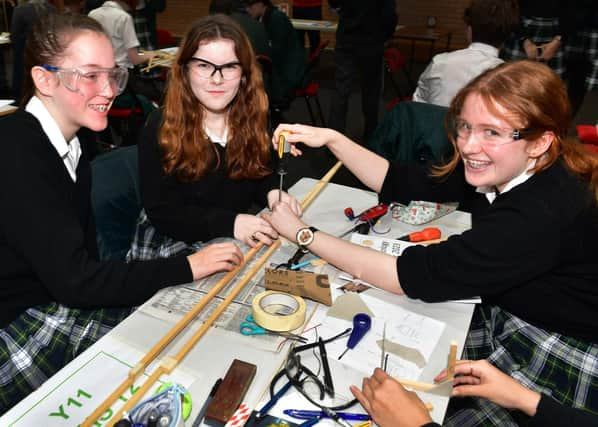 School teams pit their wits in Rotary Club engineering challenge
Teams from schools across Sleaford have taken part in a Rotary Club challenge to put their STEM skills (Science, Technology, Engineering, Mathematics) to the test.
Last year saw the first such skill tournament staged by the Rotary Club of Sleaford Kesteven, giving the students the opportunity to put their STEM skills into practice.This year's event was hosted by Kesteven and Sleaford High School.Bill Martindale from the club said: "This year we had 21 teams and 84 students entered from the four Sleaford secondary schools."Carre's Grammar School entered a Year 9 team and a Year 11 team. KSHS entered four Year 9 teams and four Year 11 teams. St George's Academy of Sleaford entered four Year 9 teams and four Year 11 teams and St George's Ruskington campus entered two Year 9 teams and one Year 11 team.The task for both year groups was to design and make a gripping device so that a radioactive meteorite could be safely handled from a distance. The meteorite - a tennis ball - was positioned in an open fronted box for theYear 9 teams and the Year 11 box had a front opening of just 125 x 85mm.The gripping device had to pass through the front opening to grip and retrieve the meteorite from a distance of 1,500mm and then place it centrally on a target area. The task had to be completed in under 30 seconds.Bill said: "All the teams were given a range of materials to work with and the morning was spent considering possible solutions, planning the team management, detailed design of the final solution and producing a portfolio of ideas before construction was started."Two test rigs were available throughout the day for teams to test their developing solution."By mid-afternoon all the teams were preparing for the final test in front of four independent judges. Two judges were engineers from Grunwald, working with two Rotarians."The result was very close with only a few points separating some teams.The Judges awarded the Year 9 trophy to a team from Kesteven & Sleaford High School and the Year 11 trophy also went to Kesteven & Sleaford High School.
Rotary Club President Keith Austen presented the trophies and winners vouchers to the team members.