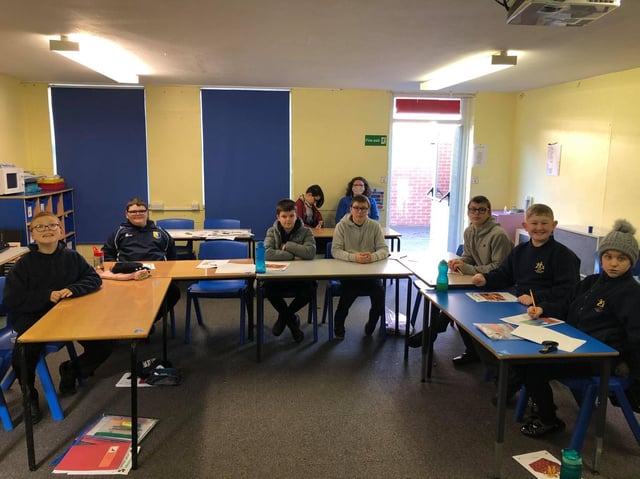 St Lawrence in Horncastle's Sparrow class social distancing in lessons.
During the first lockdown in March 2020, children were having to be homeschooled by their parents as well as trying to learn via video chats with their teachers.
Then when schools reopened again just before the summer, whole year groups and class bubbles would have to be sent home due to positive tests among the pupils and staff.
The new year brought more upheaval when schools opened after Christmas on Monday January 4, then were closed to all but key worker children the following day and teachers were given just 24 hours to roll out an online learning programme once again.
A Market Rasen primary school pupil doing creative spelling during home learning.
Despite all this, the word from schools around the county is that their staff, pupils and parents have coped incredibly well with all the upheaval the coronavirus pandemic has thrown at them.
The Lincolnshire Wolds Federation runs both St Lawrence school in Horncastle and St Bernards in Louth.
Lea Mason, the executive head, said: "Like many local schools, we have had some staff and student absences because of Covid. However, we have a range of measures in place to limit the spread of the virus, and these appear to be helping.
"As with many schools in the area we have experienced positive cases at both schools and have taken appropriate actions alongside the health protection and the local authority.
Market Rasen primary school pupils working in school.
"Staff have had to be innovative in the way they support students this year, and have successfully delivered a package of remote learning to those unable to be in school. In addition, we have continued to support the well-being and mental health of both our families and staff throughout the pandemic."
Ms Mason said that the school has also set up lateral flow testing within the two school sites, as appropriate to students needs and those of the staff team.
"We continue to work with our families through the current lockdown, in meeting the students range of needs, both on and off site, including successfully delivering a package of remote learning to those unable to be in school. In addition, we continue to support the well-being and mental health of both our families and staff throughout the pandemic.
"Our students have been amazing and have adapted quickly, and we have maintained a close connection with our school community through the use of virtual events and digital technology."
"We have always been a future-focused school, and we hope to soon see a return to normality, where we can once again provide students with a wide and varied range of opportunities to help them meet their full potential."
Katherine Cocker-Goring, headteacher of William Lovell C of E Academy in Stickney, said that she has been "overwhelmed" by the extent to which staff have gone the extra mile to ensure the best education for the school's pupils.
"Our students have shown such huge resilience during a time of uncertainty," she said, "We are hopeful that there will be increased certainty soon regarding arrangements for how Year 11 students will be awarded grades this summer, as this time has been the toughest on them, as will be the case across the entire country.
"Our Year Sevens have transitioned to secondary school beautifully, despite the challenge of losing months of their primary education, and we are delighted that they have so quickly become part of the William Lovell family."
Mrs Cocker-Goring also praised how well the teachers and students have quickly adapted to a new way of doing things and their resourcefulness.
"Even after Covid-19, we will continue to use these systems, as they are such a valuable tool for consolidating learning," she added.
Over in Market Rasen, executive headteacher of Market Rasen C of E Primary School, Mr Andrew Smith, explained that the school had put plenty of contingency plans in place just in case another lockdown was introduced in the new year.
"We had our remote learning plan in place so we were able to launch our online learning on the Wednesday with minimal fuss," he said.
"Our key worker children who have been coming into school have been brilliant and our teacher have kept their lessons as normal as possible, they've worked so hard to make sure the in-school learning mirrors the online learning so that the children at home aren't missing anything."
The school has lent around 80 to 90 computer devices to children to access their online learning at home, and even provided paper packs to those without a stable internet connection to keep up consistent learning.
"We learned what worked and what we could improve from the first lockdown," Mr Smith said.
As for 2021, he added that this year the school had wanted to create as normal a school experience as possible, but with this new lockdown, they are trying to minimise the impact for the children as much as possible:
"We are trying to make sure the children are safe and well, and ready to learn with a catch up strategy in place ready to launch."
In the Sleaford area, Caythorpe primary school headteacher Katie Brockington said that the things the school misses most are having their usual sporting activities, full school assemblies, after school clubs and extracurricular activities taking place and allowing all the children from different classes to play together at break time again.
"We just want to go back to our proper school days again," she said.
"These have been difficult circumstances and our staff have been amazing, we couldn't do it without them and they've really gone the extra mile."
Work packs were sent home for pupils when the school first closed back in March, and this time the school were able to successfully launch their online learning.
"We remained open for key worker's children and vulnerable children and if anyone finished their work or needed a new reading book, they could come in for new supplies," said Mrs Brockington.
"We had a good rota system in place for the staff so they could only come in when they needed to, as a lot of them have their own children to look after, so we all worked together.
"We had a timetable so everyone knew what they should be doing each day, but we're aware that parents are often working from home and learning from home isn't easy so we encouraged everyone to do what they can without too much pressure."