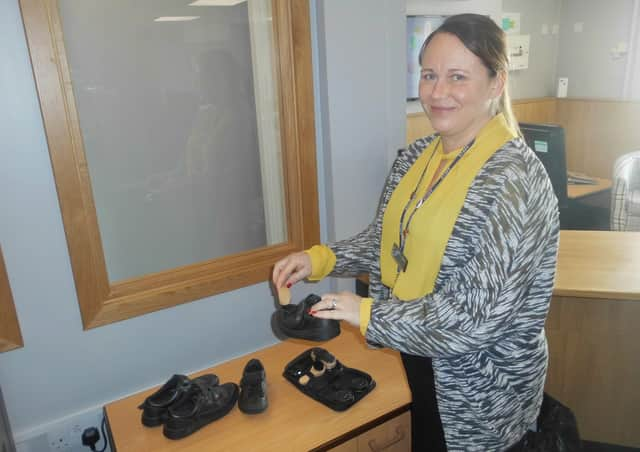 Karen Elliott, William Alvey School's Office Manager and Shoe Shop Swap Organiser! EMN-210326-173352001
With all school children now back in classrooms after several months away during lockdown, desperate parents are finding youngsters have outgrown uniforms, but are unable to get replacements due to non-essential shops still being closed until April 12 under the government's roadmap to lifting restrictions.
William Alvey School has put out an appeal for donations of any old school shoes in good condition that no longer fit that it can then offer to other pupils in need.
Headteacher Stephen Tapley explained: "We did something similar after the first lockdown and gave out 30 pairs of shoes.
"We quarantine and clean them and then parents ring up or pop in (socially spaced) and ask for a shoe size and we show them a selection and they take them home.
"We know they aren't fitted so we ask parents to keep an eye on things until they are sure the shoes are comfortable."
He also acknowledged that school shoes are expensive due to the careful fitting needed on young people's rapidly growing feet: "If you have any used shoes that are still okay but just don't fit anymore, you can send me a photo (and the shoe size) and I'll put them on our Facebook site. You can then message the school if you are interested. They are all free. You never know it might help someone."
Mr Tapley added: "We do say that shoes mould to fit a child's foot so we know that pre-worn shoes aren't always ideal. We filter out shoes that haven't enough wear left in the sole or really look second-hand. In most cases it's just for a short while and the shoes we receive are generally of a very high quality. I would certainly let my own children wear them."
Mr Tapley added: "We prefer it when the children are dressed in our jumper and tie with shoes rather than trainers. It looks smart and engenders a sense of belonging and perhaps more importantly it takes out that 'my Nikes are better than yours' competitive element. However we understand it hasn't been as easy for all our parents to get hold of uniform although I know SJB uniforms in town are running a click and collect service which has been very successful."