During the pandemic lockdowns, staff at Church Lane Primary School successfully arranged a live online dance class with former Strictly Come Dancing professional Robin Windsor.
He later returned to lead sessions at the school and agreed to act as an ambassador for the launch of a Strictly Dance and Vocal Academy at Church Lane.
It was seen as offering an outlet beyond the traditional academic curriculum for pupils to express themselves creatively in other ways, at an earlier age than usual, as such things have often had to wait until secondary school.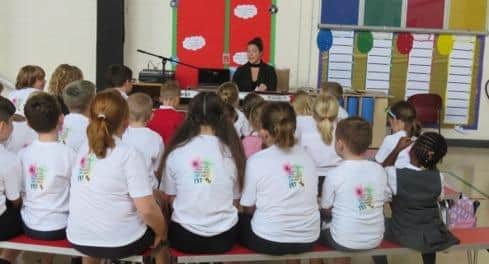 The academy began at the school in September overseen by teachers Charlotte Massingham and Sophie McCordick with dance lessons led by instructors from Dance Lobo.
One term on, and things are coming on in leaps and bounds. Miss Massingham said: "Our singers recently attended Sleaford Christmas Market and some care homes.
"They are working towards their vocal performances later in the year and performing with our dancers at our summer fair."
Their dancers have also just done their first on-stage performance at Melton Mowbray's 600-seat theatre in partnership with Dance Lobo earlier this month and came away buzzing with enthusiasm.
She said: "The dance production was phenomenal and the children were full of pride.
"It is so uplifting and the children love school because of these fantastic experiences, while having Robin as our ambassador is brilliant," she said. "We are also looking for a vocal ambassador."
Robin has been back in to the school to lead a masterclass and has inspired even more pupils to join in, acting as a male role model for boys too.
Miss Massingham, who leads art and design at the school ​​​said staff are already seeing the impact in other areas and seeking ways to weave it into other parts of the curriculum and build on these foundations.
"Children are coming in with more confidence and are able to express themselves more fully. It has helped overcome any stereotypes too," she said. "The children really do love it and it is the fact that we have other agencies involved and the children get to perform. It is an experience they would not often have an opportunity to enjoy and then they love school more because of these fantastic experiences."
The dance sessions are held on Wednesdays after school for about 60 boys and girls from Early Years, Key Stages 1 and 2 and they have been learning a routine based on the musical Annie and working on how it fits into the film version.
The vocal group has about 25 members and meets on Fridays after school with Miss McCordick, who has a background in music.There is no cap on numbers to join in and the children will take their dance and vocal exams later this year.
The school then hopes to expand the academy into drama, performing and visual arts.