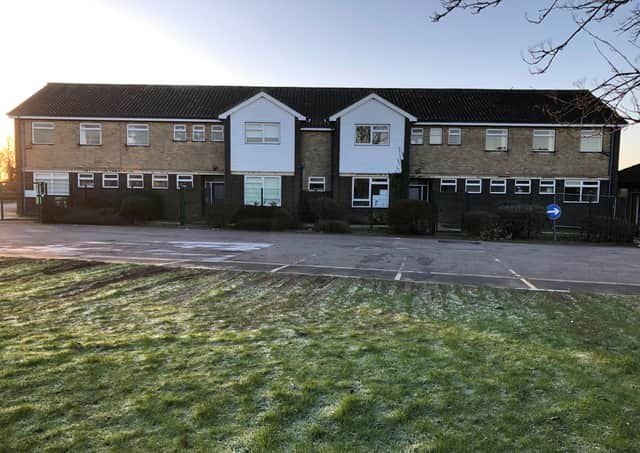 St Bernard's School in Wood Lane, Louth which is part of the Lincolnshire Wolds Federation run by the Lincolnshire Wolds Community Trust, will undergo major building works for a significant remodel and new build to the school, as part of the 'Building Communities of Specialist Provision: Special School Strategy'.
Enabling building works began at the special school in late January, as part of the capital programme to develop purpose built provision.
This will enable the school to reopen in September next year, as an 'all need' and 'all through' school.
Since builders arrived on site on January 25, they have been carrying out essential works including removing some old tree stumps that have been on site for years, installing a pathway for students to be able to safely transition around the school during the works, and installing offices for themselves.
They are currently due to start work on the Maples residential building, where the Lincolnshire Wolds Community Trust provides respite care for those who need it, in conjunction with Lincolnshire Social Services.
The respite care is still going ahead, however, and this has moved into the main school for the time being.
Temporary classrooms are being installed in April, to accommodate the classes that are in the buildings that will soon be demolished.
The school's post-16 and middle school classes will all go into the temporary classrooms for the next 12 months, while the old buildings are being replaced.
St Bernard's first became a school in the 1970s after the Education Act in 1971. Before then it was a junior training centre and was run by social services.
Maples was originally built by the health authority for children and young people who left hospital and had nowhere else to go.
Tonya Stokes, Head of School at St Bernard's, told the Leader: "We are so excited for the new provision to be built.
"It will be such an amazing opportunity for students to be able to access new classrooms and improved facilities, to help provide an even better learning experience.'
Lea Mason, Executive Head and Chief Executive of the Lincolnshire Wolds Community Trust, added: 'This work represents our ongoing collaboration and partnership with the local authority, 
in developing our vision of increasing capacity and provision of the highest quality, as part of the SEND programme within Lincolnshire'.
Demolition starts after the enabling work are completed this spring, and the project will take place over the next two years, to be completed by August 2022.