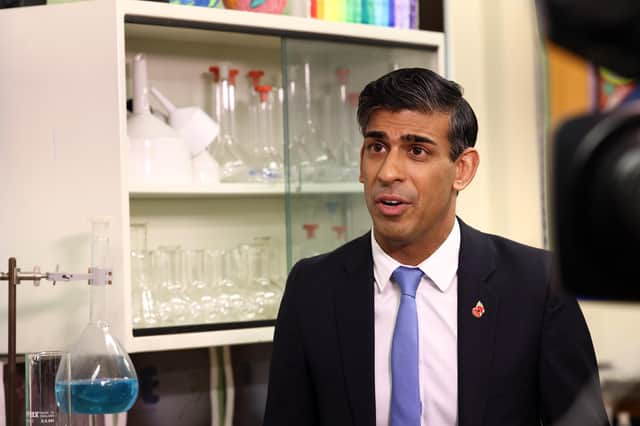 UK Prime Minister Rishi Sunak visits Lincolnshire school to discuss vaping and smoking
The PM spoke of his plans for a future cigarette ban.
Published 8th Nov 2023, 16:16 GMT
Updated 8th Nov 2023, 16:23 GMT
Prime Minister Rishi Sunak met pupils and staff at Giles Academy, near Boston, today (Wednesday) as part of an official visit to discuss his plans for a smoke-free generation.
The school visit followed on from the King's Speech yesterday where King Charles III confirmed that the UK Government will introduce new legislation regarding smoking and vaping.
While at the school, Mr Sunak referred to the King's Speech which outlined what he called "the landmark piece of legislation" which is a new bill to ensure "our generation of children grows up smoke free"
He added: "I want to build a brighter future for our children, which means taking the necessary decisions for the long-term interests of our country."
A spokesperson for the South Lincolnshire Academies Trust (SLAT) which runs the school said: "It was particularly fitting for the Prime Minister to meet students in Years 8 to 10, as it will soon be illegal for people born on or after 1 January 2009 to be sold cigarettes. This will mean that students around 14 years of age should never be able to put their health at risk by smoking.
Mr Sunak was accompanied by Boston and Skegness MP Matt Warman where they visited both science and PSHE lessons and spoke to staff and students.
Science teacher Mr Castley delivered an eye-opening science lesson where Year 10 students placed real cigarettes in bottles to discover what is actually inhaled by smokers.
"Students were shocked by the amount of smoke a single cigarette created and how they could see the residue tar," the spokesperson added.
After this, the PM visited a PSHE workshop led by the deputy CEO, Mr Hind, educating Year 8 students about the facts and consequences around vaping and smoking.
Several pupils had their say about today's historic visit: Year 10 pupil Amelia Pretka commented: "It's a good idea to make it harder for young people to vape as it is obvious that shops target children through advertising as they try and make everything as colourful and appealing as possible."
Jack Bradley, in Year 8, said: "I hope they do something about disposables vapes as it is not environmentally friendly using plastic and batteries that are not recycled."
Bonnie Davies in Year 8 said "I was really impressed that the Prime Minister visited our school. I think he's definitely doing the right thing to stop people smoking."
The trust spokesperson continued: "The Tobacco and Vapes Bill will include measures to curb youth vaping, which is something that all schools will welcome as vaping has become a growing issue nationally.
"Last term, Giles Academy students from the whole of Year 9 had a one-hour assembly as part of the PSHE programme, which focussed on electronic cigarettes and vaping devices. Students learnt about dangers and harms that can be caused by vaping and in addition to this counterfeit and unlicensed devices that are making their way into the UK that can contain nicotine levels that are ten times stronger.
Mrs Lucy Conley, Chief Executive Officer at South Lincolnshire Academies Trust commented: "We are immensely proud of how all the schools in our Trust support our students pastorally and we welcome legislation and restrictions around smoking and vaping. It was a pleasure to see how engaging the Prime Minister was and that he took the time to visit our school. I am sure this visit by the Prime Minster is something our students will remember forever as our young people can look ahead to a healthier future."