Wartime heritage centres re-open with message of hope
The war against Covid-19 may not be over yet, but heritage centres across Lincolnshire are re-opening to inspire us that Britain has won battles before and can again.
Watch more of our videos on Shots! 
and live on Freeview channel 276
Visit Shots! now
Aviation centres welcome thousands of visitors each year who wish to explore Bomber County and hear stories of the heroes who fought for our freedom.
Unlike the Second World War, our new battle with the invisible killer has brought the world together but, as Covid-19 restrictions continue, a reminder of past victories is an important lesson - according to Andrew Panton, of the Lincolnshire Aviation Centre.
Andrew is one of the third generation of the Panton family keeping the legacy alive - and grandson of the late Fred Panton, who established the centre in 1987 with his brother Harold.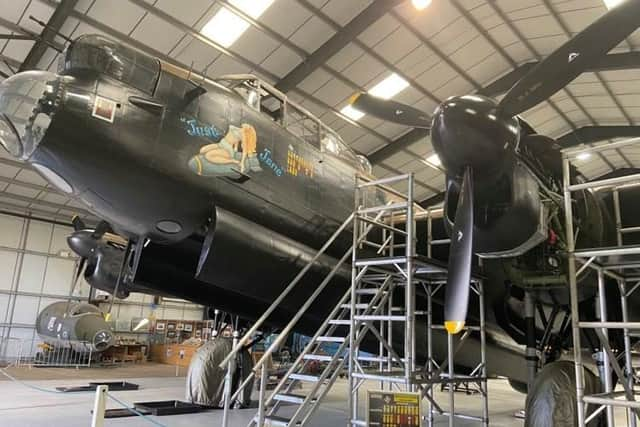 The centre - home to the Just Jane Lancaster which is undergoing to 10-year renovation to fly again - re-opens its gates to the public on Saturday, July 18, for the first time since March 23, when the government lockdown forced them to close and staff were furloughed.
"We normally only close for three or four weeks over the Christmas period and it has been very hard," said Andrew.
"The whole purpose of the centre has been to share it with the public, to educate them about the servicemen and women who fought for their country, so we can be free and live our lives.
"That is why, as well as the exhibits, we show the pictures of the officers who were stationed here.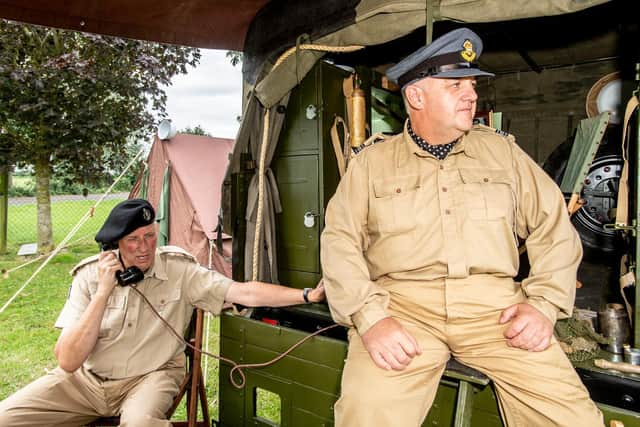 "Their sacrifice shows us that even in struggle, we can come out of the other side.
"Not being able to share those stories during lockdown has been very deflating."
Lincolnshire Aviation Centre at East Kirkby spreads over five acres with plenty of opportunity for social distancing. It is the only place in the country to see a Lancaster Bomber on an original wartime airfield
Closing the centre during lockdown has been costly. Having spent £170,000 on the winter renovation of the Lancaster's wing tips, it is unlikely the next part of the project which is the fuselage section, will go ahead later this year.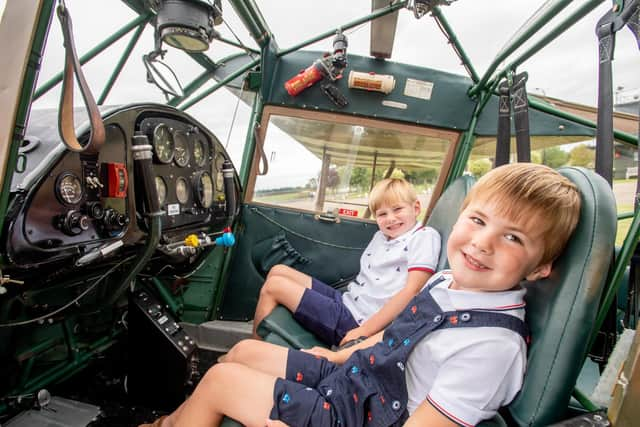 "This work was scheduled to cost £200,000 but we have already lost our income for a massive part of the season, as well as having to cancel Lancaster runs for the public because of social distancing. Apart from the furlough scheme and rates relief we have not qualified for any grants, so unless we get an unexpected cheque, our plans will have to be put back a year," said Andrew.
"But we will never give up. I was one year old and in my mother's arms when the Lancaster arrived at the centre. Seeing it fly again has been Fred and Harold's dream and their family are now carrying on the legacy."
Maintenance work has continued, though, and visitors will experience a new exhibition in one of the original buildings which has developed the Hampdon display with other early bombers from the Second Word War.
Like other aviation centres in the county, visitors are limited and pre-booking is essential, which also helps eliminate track and trace form filling on arrival.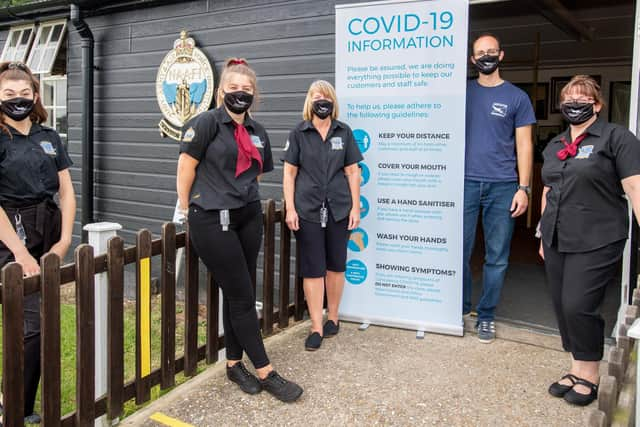 The Centre opens on Tuesdays, Thursdays and Saturdays from 10am to 5pm..
For more details visit https://www.lincsaviation.co.uk/
CRANWELL AVIATION HERITAGE MUSEUM
Royal Air Force College Cranwell (the first Military Air Academy in the world) and is probably the most famous landmark in Royal Air Force (RAF) history. Cranwell Aviation Heritage Museum opened on Saturday and portrays the fascinating story of this historic establishment from its early days as a Royal Naval Air Service base to the current day.
At the museum you can discover the history of RAF Cranwell/RAF College Cranwell through artefacts, story boards, displays and exhibits.
Exhibits Include courtyard area with Jet Provost on display, Vampire cockpit and shop selling aviation souvenirs.
Light refreshments are available
Opening times are: 10am to 4pm
For more details visit http://community.lincolnshire.gov.uk/Cranwellaviationheritagemuseum/
BATTLE OF BRITAIN MEMORIAL FLIGHT (BBFM) VISITOR CENTRE
The BBMF visitor centre re-opened yesterday (Tuesday) for pre-booked visits only and from then each week on Tuesdays to Fridays.
Tours will last a maximum of one and a half hours.
Bookings must be made a minimum of seven days in advance by emailing [email protected].
The Royal Air Force Battle of Britain Memorial Flight (BBMF) exists to commemorate the past of the RAF's Air Combat Power. The aircraft are regularly seen at events commemorating World War II, upon British State occasions, notably the Trooping the Colour celebrating Queen Elizabeth II's birthday, and at air displays throughout the United Kingdom and Europe.
The Battle of Britain Memorial Flight Visitor Centre and the RAF BBMF hangar are located within the boundaries of RAF Coningsby where you will enter a military environment. Therefore all bags are prohibited within the RAF BBMF Hangar on public tours. There are no secure storage facilities on site.
For more details visit https://www.visitlincoln.com/things-to-do/battle-of-britain-memorial-flight
INTERNATIONAL BOMBER COMMAND CENTRE
The International Bomber Command Centre also re-opened yesterday (Tuesday) and provides a world-class facility acknowledging the efforts, sacrifices and commitment of the men and women, from 62 different nations, who came together in Bomber Command during WWII.
The project at Canwick Hill, Lincoln, (LN4 2HQ) also covers the stories of those who suffered as a result of the bombing campaigns and those whose survival was guaranteed by the humanitarian operations of Bomber Command.
During WWII over a million men and women served or supported Bomber Command. They came from 62 nations across the world and were united in their efforts to protect the freedom we enjoy today. The service included Aircrew, Ground Crew, Women's Auxiliary Air Force, Auxiliary Air Transport, Auxiliary Transport Services, NAAFI and many others.
Due to COVID19 numbers are limited in sessions and pre-booking of all visits is essential
For booking details visit https://internationalbcc.co.uk/
THORPE CAMP VISITORS CENTRE
The centre opened on Saturday and was formerly part of No.1 Communal Site, RAF Woodhall Spa, and was built in 1940, with a planned life span of only 10 years.
The site included the Officers and Sergeants Mess, Airmen's Dining Halls and the NAAFI building, together with Ration Store, Latrines and Ablution Block. Only the Airmen's Dining Halls, the NAAFI, Ablution Block and Ration Store are within the Centre's boundary.
The Thorpe Camp Preservation Group established the Visitor Centre in 1988 to commemorate those Airmen who flew from the airfield in World War II.
97, 619, 617 (Dambusters) and 627 Squadrons were based at RAF Woodhall Spa.
The centre is open open every Sunday and Bank Holiday 1-5pm until the end of October, also Wednesdays in July and August 1-5pm
Visit https://thorpecamp.wixsite.com/visitorscentre/visitor-centre
RAF BINBROOK HERITAGE CENTRE
Binbrook Aviation Heritage Centre is looking to re-open in August. The project is within a two-acre site on the former RAF Binbrook airfield based around the former control tower and fire section, surrounded by the Bomber Command Memorial Park, the 460 Squadron RAAF Ident Square Memorial, the Hughie Edwards VC Memorial and the memorial trees planted to those brave bomber crews lost during the dark days of WWII and to those lost in later years.
For details visit http://www.binbrook.demon.co.uk/